How 1040.com makes filing an amended tax return smart and simple!
by Michael Jenkins
You got this—all you have to do is start!
We make filing taxes delightfully simple with one, flat–rate price. Every feature included for everyone.
Start filing
1040.com takes the guesswork out of filing an amended tax return (1040X).
If you feel you made a mistake on your return, first wait until the return has been rejected or accepted by the IRS. If the return is rejected, you may correct any mistakes and refile.

If your return has already been accepted, you must file an amended return with Form 1040X, which is available by clicking on Your Forms on the left, then on the Misc. tab, then scroll down to the 1040X:

Once you have clicked "Add a form" you will be taken to the data-entry portion of the 1040X, where you complete the Column A entry and parts I & II - leave the rest to us for this form.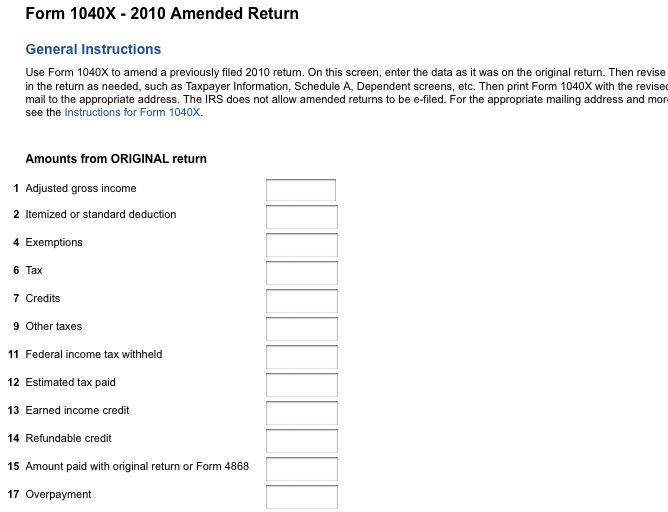 Once you are finished with the data entry for the 1040X, save the form at the bottom of the screen.
Now that your 1040X data entry is complete, it is time to complete columns B and C of the 1040X by making edits to the return in additional data entry screens within your return. For example, if you had a W-2 to add to the return, simply click Your Forms and then on the Income tab, and you will find the W-2 form to be added to the return. Do this same step for any additional forms you may need to add. If you need to edit existing forms to change a figure from the amount as it was originally filed, click Your Forms, choose the form you wish to edit and then edit the data directly on-screen. Once done, click Save on that screen and then click Results to view your return. When viewing your return, you'll notice that the entire 1040X form will be completed for you now automatically.
1040X - the Smart and Simple way.
Sign up for more of this.
Subscribe to our blog for year–round finance strategies and tax tips. We're here to remove the dread from filing taxes.
Thank you! Your submission has been received!
Oops! Something went wrong while submitting the form.
Please complete the reCaptcha.
It's not too good to be true. See what others are saying.