Make Personal Finances Part of Your Online Routine
by Bob Williams
You got this—all you have to do is start!
We make filing taxes delightfully simple with one, flat–rate price. Every feature included for everyone.
Start filing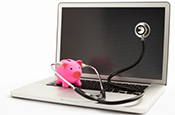 With the advent of online banking, it ought to be easier than ever to monitor the status of our personal finances. No surprises, right?
According to a recent survey by the American Institute of Certified Public Accountants, that's not the case for a significant number of taxpayers. The survey, conducted by Harris Interactive for the AICPA, found that more than half of the young adults (18-34 years old) checked their social media accounts at least once a day (7.5 times was the average).
The downside? Only 17 percent of them checked their bank accounts daily.
Numbers didn't seem to improve with a few more years, either. Among 35- to 44-year-olds, only 14 percent check their bank accounts daily -- but 34 percent of them sign into their social media at least once a day.
Why would you want to check your bank account every day? For starters, to make sure that all the transactions you see are yours -- and not some hacker's. It also helps to keep on top of what checks have cleared, which ones haven't, and if there are any bank charges you weren't expecting.
The National CPA Financial Literacy Commission has come up with some simple ways to help us all stay on top of our financial situation:
Check Your Financial Pulse -- Make it a habit to check your financial status when checking your social media sites.
Make It a Financial Friday -- On Fridays, stop by an ATM to sign into your account (or call your financial institution) and verify your balance and check the accuracy of your transactions. If you use the Internet, though, sign in from home on a secured network (NOT wireless). And don't save your financial passwords on your computer or smart phone.
Stay Alert -- Set up text alerts with your bank and credit card company, so you'll get an automatic reminder when your balances reach pre-determined thresholds.
Remind Me -- Use your calendar application to remind you to check your long-term financial planning accounts (like retirement) every quarter.
When we think about it, keeping up with our financial status takes no more time now than checking our friends' status online. So there's really not much excuse for being blindsided by bank charges or unauthorized withdrawals.
In the words of CPA Jordan Amin, the chairman of the National CPA Financial Literacy Commission, "the first rule of personal finance is to be informed."
Don't say we didn't tell you …
Sign up for more of this.
Subscribe to our blog for year–round finance strategies and tax tips. We're here to remove the dread from filing taxes.
Thank you! Your submission has been received!
Oops! Something went wrong while submitting the form.
Please complete the reCaptcha.
It's not too good to be true. See what others are saying.