Tax Facts to Remember Before You Sell Your Home
by Bob Williams
You got this—all you have to do is start!
We make filing taxes delightfully simple with one, flat–rate price. Every feature included for everyone.
Start filing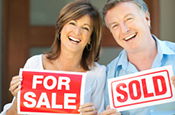 As the economy slowly improves, the housing market improves as well, generally speaking. And that may be the case where you live.
More and more Americans are putting their houses on the market, some to make that long-delayed purchase of a newer home; some to take advantage of lower prices to get a bigger place; and some just to get out of that mortgage altogether.
Depending on your circumstances, you might not have to pay any extra tax on a profit you make on the sale of your home. But it is definitely in your economic best interests to do a little planning before you sign on that dotted line.
The IRS has assembled a handy list of considerations if you have sold, or are about to sell, your home. Remember that this all
pertains to sale of your main home, not a second home or vacation place.
The good news is, you should be able to hang on to most, if not all, the money you get for your house.
Let's get started:
First, think back five years from the date of sale (or the projected date of sale). In general, you're eligible to exclude the
gain from your income if you have owned and used your home as your main home for at least two of those five years.
If you file Married Filing Jointly, you could exclude up to $500,000 of the gain from your income taxes. If you file Single,
or Head of Household, the exclusion drops to $250,000. If you're not sure you qualify, check with a qualified tax preparer.
No Double-Dipping
If you excluded the gain from the sale of another home in the two years prior, don't expect to do the same this time around. You might qualify for a partial exclusion, but not for the full amount.
Those taxpayers with more than one home can exclude the gain only from the sale of their main home. If a second or vacation home is sold, any gains are taxable. What if you live in both of them? The IRS says your main home is the one you live in most of the time.
If you can exclude all the gain, you don't need to report the sale of the home on your tax return. On the other hand, if your gain cannot be excluded, it is indeed taxable. Report it on Form 1040, Schedule D - Capital Gains & Losses.
If you took a loss on the sale of your main home, you don't need to report that, either. The IRS says you can't deduct such a loss from your return.
Many taxpayers bought their homes using the First-Time Homebuyer Credit. If that's the case, some special rules apply. Check out the IRS Publication 523, Selling Your Home, for details.
Publication 523 has helpful worksheets to help you figure the adjusted basis of the home you sold, the gain (or loss) on the sale,
and the gain that you can exclude. You might find our Capital Gains/Loss Calculator helpful in this as well.
And one more thing: Once you've sold your home, don't forget to update your new address with the IRS and the Postal Service to ensure you'll get mail from the IRS. You can use Form 8822, Change of Address, to notify the IRS of your move.
For more information, consult Tax Topic 701 - Sale of Your Home.
Sign up for more of this.
Subscribe to our blog for year–round finance strategies and tax tips. We're here to remove the dread from filing taxes.
Thank you! Your submission has been received!
Oops! Something went wrong while submitting the form.
Please complete the reCaptcha.
It's not too good to be true. See what others are saying.