Hurry Up and Wait
by Bob Williams
You got this—all you have to do is start!
We make filing taxes delightfully simple with one, flat–rate price. Every feature included for everyone.
Start filing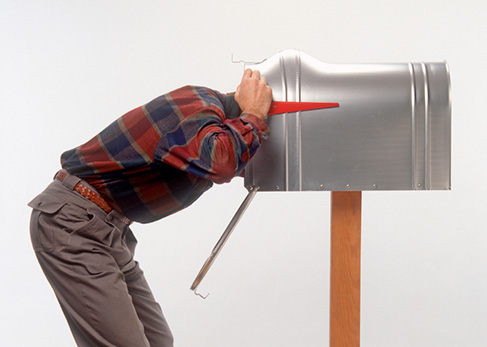 Allow us to be redundant. Again.
We know the news from Washington lately is more like "The Kindergarten Report" than anything that's ever passed for government in this country. And yes, we have already talked about what it means for the IRS. But it's getting close to the last day of filing for the 2012 tax year.
While that's apparently not very important for your representatives in Washington, it's important for YOU if you haven't filed yet. So we feel we need to put editorial caution aside for a moment and give you a precautionary heads-up. Again.
Stuck in the Middle
The government shutdown that started Oct. 1 couldn't have come at a worse time for the IRS (well, maybe if it happened on April 1, but that's unlikely – we hope). With the end of the filing year fast approaching, the Internal Revenue Service was looking to take in the last batch of returns, process them, and issue refunds so they could close out the tax year. Fat chance.
That means you now have somewhat of a minefield ahead if you haven't filed your 2012 income tax return. So here's what you need to know to get it filed.
First, your tax return – and any tax due – are still required to be in the IRS's hands by Oct. 15, whether your e-file your return or paper file. And any other tax deadlines are still in effect as well. The government shutdown means, though, that paper-filed returns will sit on the IRS's doorstep until the federal staffers go back to work. E-filed returns will be processed; paper returns won't.
Paper filers will, however, get credit for sending in their returns in a timely fashion, thanks to the Postal Service postmark. The really big hitch here is during the shutdown, no refunds will be issued. Oh, you'll get your money – but not until after the IRS has been told to go back to work.
Second, just because we're at the very end of the 2013 tax season, don't think that beating the rush isn't a viable strategy here. Before the bean-counters at the IRS were told to turn out the lights, they figured up how many taxpayers had asked for the automatic six-month extension of time to file.
If you guessed 12 million, you get the gold star. And "many" of those taxpayers, says the IRS, have yet to file a 1040 for 2012.
Wiggle Room
There are just two groups who may have extra time to file. One is military service members serving in Afghanistan or some other combat zone. They typically have at least 180 days after they clear the combat zone to file a return and pay any tax due.
The other group is the taxpayers who got extensions because they were affected by the recent rainstorms, flooding and landslides in Colorado. Previously, the IRS had given them until Dec. 2 to file and pay.
Trust us, you wouldn't want to trade places with any of these folks in either group just to have more time to file your taxes.
About That "Wait" Part …
We know it sounds like we talking out of both sides of our 1040s when we say "file now," and then tell you refunds – and even some returns – won't be processed. But if you want to escape a bigger tax bill, it'd be wise to file before the Oct. 15 deadline. You see, YOU will be fined if you miss the deadline; the IRS won't.
It will also be beneficial to make sure your return is as right as you can make it before you e-file. The shutdown (the IRS diplomatically calls it an "appropriations lapse") means returns with major problems or identity theft questions will be placed on hold until paid human beings once again roam the halls of the IRS.
What Is Working
Most of the IRS's electronic functions on its website are still running, so taxpayers should take full advantage of them. However, any issues that require an answer from a live human will have to wait – at least for now.
So here's how we view this minimalist landscape: If you have not already filed a federal income tax return, you have a just a few days to get it done. Complete your return on 1040.com and e-file. If you owe tax due, pay it electronically. You'll get an acknowledgement if the return's accepted, and a reject if it's not. You have five days from the 15th to get a rejected return corrected and re-filed.
And the process will stop right there until this mess is straightened out. When the government goes back to work, the IRS will start working on getting the refunds out.
So once you've filed, all that's left to do is to sit back and wait. And we hope that won't be too long.
Sign up for more of this.
Subscribe to our blog for year–round finance strategies and tax tips. We're here to remove the dread from filing taxes.
Thank you! Your submission has been received!
Oops! Something went wrong while submitting the form.
Please complete the reCaptcha.
It's not too good to be true. See what others are saying.