It's Better to Give AND Receive - Part I
by Bob Williams
You got this—all you have to do is start!
We make filing taxes delightfully simple with one, flat–rate price. Every feature included for everyone.
Start filing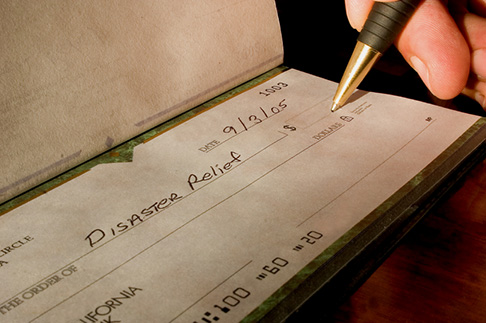 Even in tough economic times, it makes sense to give money to your favorite charitable organizations. First, it's the right thing to do: many laudable projects would simply not exist without the so-called "small change" of the average donor.
Second, you may be able to get some of that donation back in your pocket. With a little forethought and planning, you can ensure that your donation helps those in need – and does double duty by helping your tax bill as well.
Work Your Sources
First, of course, you need to make sure that the organization you have in mind as the target of your donation is indeed qualified to receive your money in the eyes of the IRS.
To check out any purported charitable organization, you can start by simply asking for their IRS documentation for non-profit organizations. They should be able to show you a copy of their IRS certification, such as a 501(c)(3), or a similar designation. If you intend to claim your donation on your taxes, verbal assurances alone may not be enough if you don't know the organization personally. There are a lot of groups posing as charitable organizations that do not have the proper designation from the IRS.
You can also go here to download Publication 78, the IRS' list of qualifying charitable organizations for the entire U.S. Note, however, this is a BIG file and may not display correctly, especially if you have an older computer.
Tax-Exempt Isn't Forever
Another good reason to research before you give, is because many non-profit groups had that status revoked by the IRS over the last two years. Some 275,000 organizations have lost their tax-free status because they didn't file their required annual reports, and yearly audits could mean more groups could join them in the coming years. So those folks who promise you can take your donation off your taxes may not have the latest information. The IRS has the complete list of groups that lost their non-profit status this year in this document. You can download the list by state.
Next time, we'll look at how to handle your donations on your tax return, whether you give cash – or something else.
Sign up for more of this.
Subscribe to our blog for year–round finance strategies and tax tips. We're here to remove the dread from filing taxes.
Thank you! Your submission has been received!
Oops! Something went wrong while submitting the form.
Please complete the reCaptcha.
It's not too good to be true. See what others are saying.