For Those Who Serve
by Bob Williams
You got this—all you have to do is start!
We make filing taxes delightfully simple with one, flat–rate price. Every feature included for everyone.
Start filing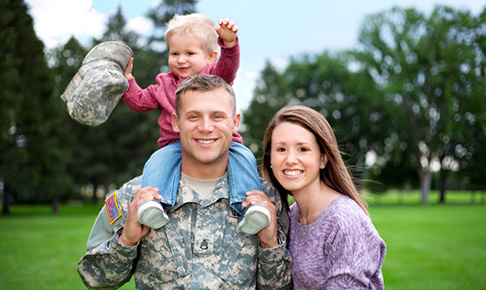 A quick quiz for those of us who have never served in the military: What comes to mind when you think of our men and women in the Armed Forces?
Honor
Service
Heroism
Sacrifice
Income Taxes
OK, we admit – it's a trick question. The answer is F – All the Above. That's because serving in any one of the branches of the service is treated by the IRS as a job. Uncle Sam giveth, and Uncle Sam taketh away, so to speak. And even though our soldiers and sailors have to think about deductions and credits just like the rest of us, there are a few tax benefits for our folks in uniform.
At ease, soldier. Here's your briefing:
Qualifying military members – including those serving in a combat zone – can postpone some tax deadlines. That includes automatic extensions of time to file tax returns and pay taxes due. Reference the IRS' Tax information for Members of the Military, or Publication 3, the Armed Forces Tax Guide for help on this or the topics that follow.
If you do serve in a combat zone, you can exclude certain combat pay from your income. You won't need to show the exclusion on your tax return, because qualified pay isn't included on your W-2. Some service outside of a combat zone also qualifies for this exclusion.
Credits and Deductions
As a member of the American military, you can choose to include that nontaxable combat pay as earned income to figure your Earned Income Tax Credit (EITC). This would be your choice if it increases the amount of the credit. But even if that combat pay is included in your earned income, it remains nontaxable. (We call that win-win around here.)
Moving, of course, is a big part of serving in the military. And if you move due to a permanent change of station, then you may be able to deduct some of your unreimbursed moving costs. What's a "permanent" change? A move from your home to your first active duty post; a move from one permanent post to another; or a move from your last active duty post to your home (or to a nearer point in the U.S.). This last move has to happen within one year of ending your active duty, or within the time period allowed in the Joint Federal Travel Regulations.
Refer to Publication 3 for rules on qualifying expenses, and use Form 3903 to deduct them on your return.
Do regulations prohibit you from wearing certain uniforms when off duty? You can deduct the costs and upkeep of those uniforms. Remember, though, to reduce your expenses by any reimbursement you may get for those costs.
If you're a member of the U.S. Armed Forces Reserves, you can deduct certain travel expenses on your tax return. Reservists can deduct unreimbursed expenses for travel if they have to go more than 100 miles from home to perform their Reserve duties.
The educational and subsistence allowances paid to ROTC students during advanced training are not taxable. However, active duty pay – such as pay received during summer advanced camp – is taxable.
On the Home Front
Normally, both spouses have to sign the income tax return if filing jointly. But when one spouse is unavailable because of certain military duty or conditions, the other may, in some cases, sign for both spouses – or will need a power of attorney to file a joint return. Pub 3 has all the specifics.
At some point, your hitch will be over and you'll head back into civilian life. After leaving the military, you may be able to deduct certain job-hunting expenses. Those may include travel, moving expenses, resume preparation fees and job placement agency costs.
And don't forget many bases have free tax help available, so take advantage of the experts if your tax situation seems a little daunting. Then, come back to us here at 1040.com for a smart, simple way to do that return.
As you were, recruits! Dismissed!
Save
Sign up for more of this.
Subscribe to our blog for year–round finance strategies and tax tips. We're here to remove the dread from filing taxes.
Thank you! Your submission has been received!
Oops! Something went wrong while submitting the form.
Please complete the reCaptcha.
It's not too good to be true. See what others are saying.