Stay in the Race When the Clock's Ticking
by Bob Williams
You got this—all you have to do is start!
We make filing taxes delightfully simple with one, flat–rate price. Every feature included for everyone.
Start filing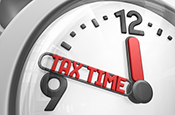 Most years, filing our taxes follows pretty much the same pattern. We start out by assembling the various pieces of paper we'll need -- receipts, statements, W-2s and the like. Then we sit down and just do it. We fill in the various forms, make sure it's all there -- and then click that big SEND button to get that very large monkey off our back.
But sometimes, things just don't go as planned. We depend on our employers and others to send us much of the information we need to file our income taxes. And sometimes -- they just don't. Whether it's lost in the mail, eaten by your dog or just not sent in the first place, that vital piece of information has you stuck in Tax Limbo until you get it.
So now what? The clock is ticking. The IRS says if your return isn't filed by April 15, it's late (more on that later). You feel the heat of Uncle Sam breathing down your neck and you're getting edgy.
Take a deep breath, grab a refreshing beverage, then use the miracle of the Internet to solve your problem. It's that simple. Here's how.
Your Tax Time Machine
While we're taught that the IRS tax-filing deadline of April 15 or thereabouts is iron-clad, the government actually gives us a way out -- sort of. Any individual can file -- or e-file -- Form 4868, an Application for Automatic Extension of Time to File U.S. Individual Income Tax Return, to push the due date for their return back by as much as six months.
There is a catch, though. If you owe taxes to the IRS, payment of any amount due is NOT extended. That's due by April 15, even if you file an extension. You're extending the time to file, not the time to pay. Sorry.
Do It Quick and Do It Here
Our site makes filing an extension easy. Just click My Return after logging in to your 1040.com account, and select the blue Get a Federal Extension button you see at right.
That will start you on the road to e-filing your federal extension. Here, you can make a payment to the IRS (remember, your return gets the extension, your payment doesn't …); get the mailing address if you want to mail in your federal extension; and a link to all the state sites if you need a state extension as well. To continue your federal extension process, select the Edit Extensions button at the bottom of the page.
You'll be taken to the Personal Information screen of your return for your inspection. Make sure your contact information -- and especially your Social Security Number -- is all correct. Being careful here can avoid confusion, embarrassment, and rejection by the IRS later. Click the Next button at the bottom of the screen to continue.
If you think you'll owe tax to the IRS, the next page is where to say that. If you expect a refund, you can click a button for that as well. BE HONEST. If you wind up owing tax to the IRS you will NOT get extra time to pay it without a very good reason (more on that later, too).
If you're not sure whether you'll owe tax or not, we can help you with that. Click the third button for our Tax Liability calculator.
At that stage, you're ready to e-file your extension. Complete the security page and click the e-file button at the bottom to send that federal extension flying through cyberspace to the IRS.
State extensions are filed through the individual state Departments of Revenue, so you'll need to select your state from the list and file through their respective web sites.
Show Them the Money
But what if your problem's a little different? What if your return is all wrapped up, but you don't have the money to pay the full amount of tax due?
There's no real extension for that, but the IRS does say there's a process. First, file your return on time and pay what you can toward the full amount of tax you owe.
If you like the idea of paying online, you can visit www.1040paytax.com where you'll have a lot of credit or debit card options. They also have direct links to the New York, Illinois and Kansas state payment centers.
After you've filed, the IRS will send you a bill for the balance due. You can go online to the IRS website and apply for a payment agreement to set up a payment schedule. Read the instructions carefully. There are definite qualifications you must meet in order to participate.
Late Will Cost You
Miss the extended filing date, and you'll be paying for it. According to the IRS, the penalty is usually 5 percent of the amount due for each month -- or part of a month -- that your return is late. If the return is more than 60 days late, the minimum penalty is $135 or the balance of the tax due on your return, whichever is smaller.
The penalty for late payment of tax follows a similar route. The late payment penalty is usually one-half of 1 percent of any tax (other than estimated tax) not paid by April 15. It's charged for every month, or part of a month, that the tax is unpaid. The maximum penalty for late filing or late payment is 25 percent.
Even here, there's an out: You might not owe the penalty if you have a reasonable explanation for filing late. You can attach a statement to your return fully explaining why you filed late or didn't pay on time.
For Those Who Live Abroad
The only taxpayers who get an automatic break on when to file, are those who live outside the U.S. when returns are due. Those folks get an extra 2 months to get their returns to the IRS. They can file the 4868 to get an additional 4 months to file.
For those of us who live on this side of the Big Pond, it's best to get those income tax returns in on time, and if we can't, use the easy extension feature on 1040.com to give us a little extra time! Just make sure that check to the IRS is in the mail …
Sign up for more of this.
Subscribe to our blog for year–round finance strategies and tax tips. We're here to remove the dread from filing taxes.
Thank you! Your submission has been received!
Oops! Something went wrong while submitting the form.
Please complete the reCaptcha.
It's not too good to be true. See what others are saying.