It's Not Nagging - Think of It as Encouragement
by Bob Williams
You got this—all you have to do is start!
We make filing taxes delightfully simple with one, flat–rate price. Every feature included for everyone.
Start filing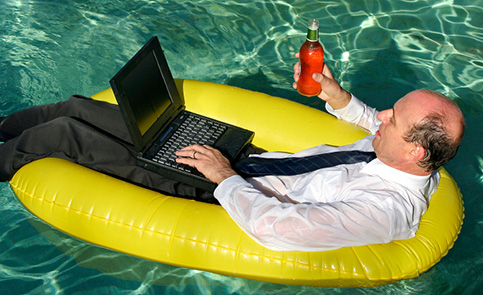 With summer firmly entrenched in most areas of the country, we admit it's pretty hard to get your attention on the subject of income taxes right about now. Your main concern these days is how long to spend in that inflatable easy chair, floating in your pool with your beverage of choice. If you don't have a pool, a lawn chair and a well-placed sprinkler make a pretty good substitute, we've found.
But if you like taking it easy, you should also know it takes work to get to that point. And that's where we come in; we want you on your game when tax time does roll around again. Oh, don't get up – you can take all this in and not spill your drink.
Know the Competition
"What competition?" you say. "I do the forms; I push the button, BAM! They're gone."
In theory, sure. But the latest numbers are in from the IRS on just how many folks e-filed this past tax season – and you were far from alone. Through May, the IRS has gotten more than 43 million e-filed, self-prepared income tax returns. That's just the individuals who did their own taxes and e-filed them – folks just like you, actually.
When you add in the taxpayers who had a pro do their income tax returns, the total number goes up to 113 million returns e-filed.
Our point here is that on an individual basis, we seldom see the need to file as early as possible. But when you consider the crush of electronic returns in the pipe, filing early is the only strategy that makes sense. If you want your refund quickly, file your return as early as possible.
Here again, there's competition. This last filing season, the IRS handled over 101 million refunds, totaling more than $267 billion. That's not pocket change. And we're sure everybody was looking for their money virtually from the time they clicked that "Send" button. Even with today's computers, it takes time to handle that many refunds. So why would you wait until the last minute to get in line?
History is Your Best Teacher
OK, take a break and get a refill of that beverage. The straw hat's a nice touch, too.
Back to filing your income taxes early in the season. It really doesn't have anything to do with statistics – but it has everything to do with numbers. Here's the way income tax season generally goes:
Early filers whizz through the system because the IRS doesn't have a backlog of returns in the first few weeks after e-filing begins. In a good year, the system hums along through the middle weeks. In a bad year, there are IRS computer failures and other issues that can derail your plans. But regardless, the closer we get to April 15, the slower the system can get. Late filers are many, and lots of times, that means the IRS intake system can get bogged down by the sheer volume.
You don't want to get caught in that crush. Yes, we're talking electrons versus envelopes and postage stamps, but the bottom line is the same: Your chances of disaster are much higher if you wait until the last minute to file.
We're Here to Help
So please don't think we're nagging. We try to make your 1040.com experience as quick and easy as we possibly can. But as you know, most of the preliminary work happens on your side of the computer screen.  So do the basic steps we've talked about before: Organize your financial documents, plan your income tax strategy, and file early as possible.
Who knows? Maybe that next refund will show up in your account before the electrons are dry on that e-filed return.
Now that we've gotten that out of the way, care if we, um … take a dip?
Sign up for more of this.
Subscribe to our blog for year–round finance strategies and tax tips. We're here to remove the dread from filing taxes.
Thank you! Your submission has been received!
Oops! Something went wrong while submitting the form.
Please complete the reCaptcha.
It's not too good to be true. See what others are saying.