Disaster Survival for Life as You Know It - Part 2
by Bob Williams
You got this—all you have to do is start!
We make filing taxes delightfully simple with one, flat–rate price. Every feature included for everyone.
Start filing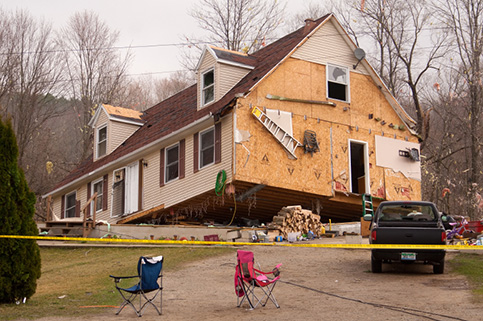 OK, the worst has finally happened. Your home has suffered a direct hit from some sort of disaster. Whether it's from tornado, flood, hurricane or even earthquake, your castle is now in pieces – and so is your life.
You just want it to be over.
But before you can start rebuilding your life and your home, you need to get your personal financial records together.
Huh? My roof is gone, the living room is scattered over a half-block, my furniture is in the middle of the street – and I need to scrape up paperwork??
That's right. But it's very important for your recovery that you do. Here's why:
If you seek Federal Emergency Management (FEMA) or Small Business Administration aid, you'll need those records. The more accurately you can estimate your loss, the more loan or grant money there may be available for you. And you'll get it quicker.
Your insurance policy may require certain records to verify property you've lost and the value of the structure that's damaged.
You'll also need those records for tax purposes - to declare a casualty loss. If the disaster is wide-spread, the IRS may also declare a deduction or tax credit for victims of the event. But you'll need certain qualifying documents first.
Once the dust settles, so to speak, there are some steps you can take to help reconstruct your records to prove your loss.
Take photos as quickly as possible of your damaged property to establish the extent of your loss. If you can, use a camera that will imprint the date on the image.
Contact your title company, escrow company or bank that handled the purchase of your home, to get copies of your escrow papers. Your real estate broker may be able to help with this, as well as getting "comps" – comparable sales within your neighborhood – to establish a basis or fair market value for your home.
If you can't find your copies, you can request a copy of your tax records immediately after the disaster. File Form 4506, Request for Copy of Tax Return, to get copies of the previous 4 years of income tax returns. To obtain copies of the previous 4 years of transcripts, you can file Form 4506-T, Request for Transcripts of a Tax Return. Be sure to write the disaster designation, such as "Hurricane Hazel" in RED letters across the top of both forms to expedite processing – and to waive the normal user fee.
Check your insurance policy; most policies list the value of the building to establish a base for replacement value. If you're unsure how to reach your insurance company, you can go here to track down the contact info for your company in your state.
If you made improvements to your home, you can contact your contractor and see if he has any records are available. Get statements from the contractors, verifying their work and the costs if possible. You'll also need bank paperwork if you secured a loan for the home improvements.
If no other records are available, check the county tax assessor's office for old records about your property. Look for assessed value and ask for the percentage of assessment to value at the time of purchase. This is a rough guess – but it's still better than no records at all.
 Most of these steps deal with damage to the structure of your home, so what about the contents? We'll cover that topic next time.
Save
Sign up for more of this.
Subscribe to our blog for year–round finance strategies and tax tips. We're here to remove the dread from filing taxes.
Thank you! Your submission has been received!
Oops! Something went wrong while submitting the form.
Please complete the reCaptcha.
It's not too good to be true. See what others are saying.