Disaster Survival for Life as You Know It - Part 3
by Bob Williams
You got this—all you have to do is start!
We make filing taxes delightfully simple with one, flat–rate price. Every feature included for everyone.
Start filing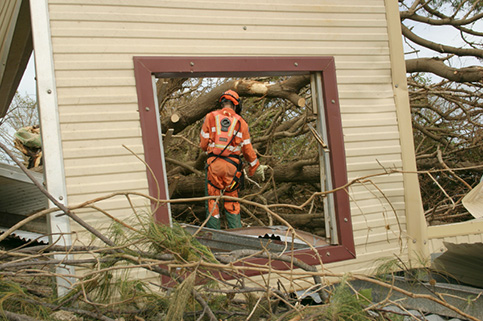 As anyone who's had to endure a disaster knows, you're likely to suffer a two-pronged loss when Mother Nature pulls out all the stops. We covered the damage to a home last time. Now, it's time to look at what we do for what's inside our home – Our Stuff.
For your personal property, start your recovery with a plan of your home. If you had a video or photographs of your rooms taken before the disaster, you can skip this step.
Where Is What
Draw a picture of each room, with a floor plan, showing where each piece of furniture was, as well as a view looking toward any shelves or tables. Show any shelves and items on them. Remember, these don't have to be professionally drawn, but they should be readable and functional.
To figure the replacement cost of your lost personal property, retrieve any receipts you may have from their purchase; if you used a credit card, contact the card company to request back receipts or statements.
You can use old catalogs and back issues of newspapers to find the fair market value of appliances and other items. (This is also a reason to hang on to receipts from appliances and furniture for one year before discarding them.)
Recovery by the Book
If you lost a number of books in the disaster, the IRS recommends taking a tape measure and the diagram you made of your bookshelves to a used bookstore. Measure several rows of books and count the number of books per shelf. Add up the prices of the books and determine an average cost per shelf. Then count the number of shelves you had in your home and multiply by that average. This will help give you the value of your books before the disaster.
For more information on what steps to take after disaster strikes, check out the IRS Publication 2194, The Disaster Losses Kit for Individuals; also available is Publication 584, The Casualty, Disaster and Theft Loss Workbook.
Save
Sign up for more of this.
Subscribe to our blog for year–round finance strategies and tax tips. We're here to remove the dread from filing taxes.
Thank you! Your submission has been received!
Oops! Something went wrong while submitting the form.
Please complete the reCaptcha.
It's not too good to be true. See what others are saying.