The Season of Getting Serious
by Bob Williams
You got this—all you have to do is start!
We make filing taxes delightfully simple with one, flat–rate price. Every feature included for everyone.
Start filing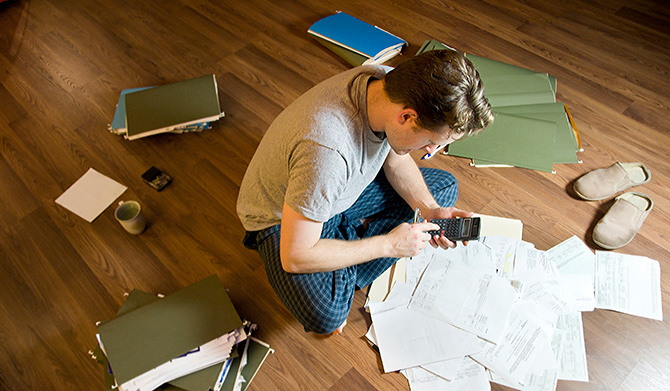 The fireworks have run their course, and you cleaned up the living room after that New Year's bash. Those pointy little party hats and disposable noisemakers take up quite a bit of room in the old trash bag, don't they?
With the descent of that big shiny ball in Times Square every year comes a change in season. It's not so much meteorological but taxological. 'Tis the Season of Getting Serious.
The second your computer rolls over to show "2014" in the date display, the proverbial tax clock starts ticking. The alarm is set to go off on April 15. How you view the tax season will depend on what you do between now and then.
Early Birds Get the Worm
Now that you're officially in Tax Time, it isn't time to rush – but it is time to take care of business. So, one of your first orders of business is to get organized. Hopefully you took our advice in 2013 and started filing away your important tax documents, receipts and invoices. If you did, the next step will be cinch. If you didn't, read our lips: "We Told You So."
Break out your filing system (we use that term loosely) and take a first look at your paper trail through 2013. In a perfect world, you should have your mortgage statements, charitable contributions or donations, and other statements filed neatly and available for their respective deductions. In a much-less-than-perfect world, the whole mess may be dumped into a cigar box or grocery bag. Perfect world inhabitants can skip to the next step.
The rest of you, have a seat. You've got work to do.
Now - before you even think about filling out your tax forms – it's time to dive into that batch of paper and get it sorted out. Group everything by category and put each category in a separate envelope. Plus, now is the time to check your paperwork and see if you're missing anything. Not seeing that July mortgage statement? Can't seem to put your hands on that donation of furniture you made to the church bazaar? Now's the time to track them down – before time starts getting critical.
Once you get your paperwork reasonably organized, you can get your tools together. Calculator? Check. Computer with a working printer? Check. If you found documents in your cache that you'll need to include with your e-filed return, you might also need a scanner to put that paper document in electronic form.
Pick Your Battles
Now that you have your documents together and your tools are available and ready, it's time to actually set aside your tax time. Be realistic and schedule yourself some quiet time when you can do your taxes and not be disturbed or distracted. And give yourself more time than you think you'll need. Lots more.
Location is important as well. Clear the decks on your computer desk so you can lay out receipts and such without losing track of them. If you're a floor-sitter, make sure that other factors – like your dog or cat – aren't going to take a stroll through your paperwork in mid-calculation.
If you've suffered computer issues of late, try to get them resolved before embarking on your income tax return. You don't want anything to get between you and a successful e-file experience.
As we've said so many times before, organization is key to a smooth income tax filing. But timing can be just as critical. Putting off the organization step until you sit down to fill out forms will raise the chances of disaster sharply. If something goes wrong then, you're in Crisis Mode in order to make the filing deadline.
Your income taxes are too important to risk an oversight that can cost you money. With a little planning and forethought, you can make sure you sent the IRS the right numbers – and you're getting your fair share in return.
Sign up for more of this.
Subscribe to our blog for year–round finance strategies and tax tips. We're here to remove the dread from filing taxes.
Thank you! Your submission has been received!
Oops! Something went wrong while submitting the form.
Please complete the reCaptcha.
It's not too good to be true. See what others are saying.