Taking Care of Business - at Home
by Bob Williams
You got this—all you have to do is start!
We make filing taxes delightfully simple with one, flat–rate price. Every feature included for everyone.
Start filing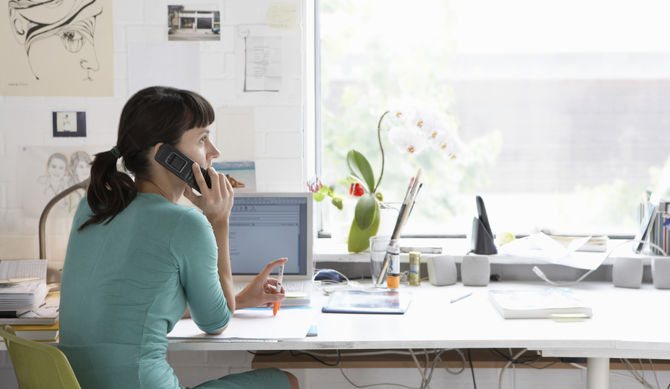 Doing business these days is nothing if not mobile. Small business owners frequently run their entire operation from a tablet or even their smartphone. The days of being tied to a single office are long gone.
And it's not just business owners who are mobile; their employees, too, are many times working from multiple locations – including home. The tax code recognizes this, and has provisions that at least attempt to compensate those taxpayers.
The Deduction
If you use part of your home for business purposes, you may be able to deduct expenses for the business use of your home. The home office deduction is available to homeowners and renters alike, and applies to all types of homes.
There are some basic requirements to be met before a taxpayer can qualify, however.
First, the area of the home being claimed for the deduction must be used regularly for the exclusive purpose of conducting business. If you occasionally meet clients in the living room, for example, and you also use the room to watch TV, that won't qualify. On the other hand, if you conduct business in a spare bedroom and that is the only use of the room, you get the deduction.
Second, you need to show that you use your home as a principal place of business. Even if there's another location that is used for business, if your home is used substantially and regularly for business, you can deduct the expenses for that portion of the home used for business. Occasionally doing late-night work at the kitchen table probably won't qualify.
And the deduction doesn't only apply to just your home. If you have a separate building at your home where the activity is carried out – such as a studio, garage or barn – that can qualify if the other requirements are satisfied.
Taxpayers doing work for an employer – versus a small business owner, for example – have a couple of extra hoops to jump through before getting the home office deduction. They have to meet those first requirements, but also:
The business use must be for the convenience of the employer – not the employee; and
The taxpayer must not rent out any part of their home to the employer and use the rented portion to perform employee services for the employer.
Figuring the Deduction
The IRS gives taxpayers two methods to figure their home office deduction:
The simpler option takes the square footage of the area used for business (up to 300 square feet) and multiplies that figure by $5 per square foot.
The standard method can accommodate areas beyond 300 square feet, but you'll need to calculate your actual expenses for that portion of the home over the year, including mortgage interest, utilities, repairs and the like. You'll also need to know the percentage of your entire home that is used for your business activities.
If the home office deduction sounds like something you could use on your next income tax return, see IRS Publication 587, Business Use of Your Home.
Sign up for more of this.
Subscribe to our blog for year–round finance strategies and tax tips. We're here to remove the dread from filing taxes.
Thank you! Your submission has been received!
Oops! Something went wrong while submitting the form.
Please complete the reCaptcha.
It's not too good to be true. See what others are saying.