How 1040.com's e-File Pricing Compares with the Big Dogs
by Susannah McQuitty
You got this—all you have to do is start!
We make filing taxes delightfully simple with one, flat–rate price. Every feature included for everyone.
Start filing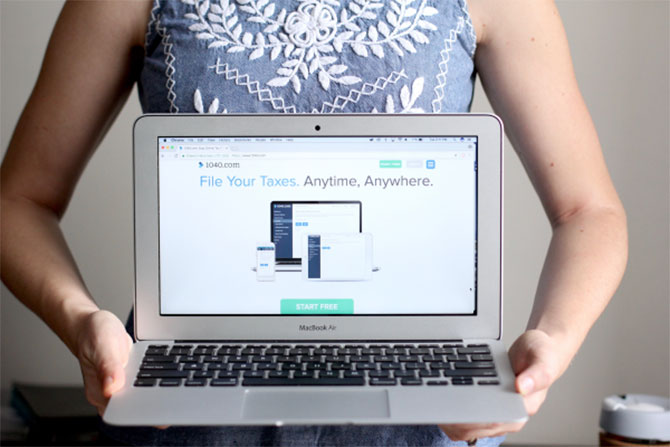 1040.com has the best e-filing system out there (we think so anyway), but sometimes we get overlooked for the bigger names in the business. While we work to get our name out there and build relationships with new customers, we decided to do a breakdown of how 1040.com's pricing compares to the other e-filing companies. Here's a quick review of our pricing:

Now, sometimes comparing pricing is tricky, because not all companies charge for the same things in the same way and some offer additional services. It's also important to note that pricing changes occur throughout the season, so this is simply a comparison of pricing as of January 18.
H&R Block™

H&R Block has four pricing tiers instead of our three, which isn't necessarily a bad thing. However, once you look at the pricing, you'll notice the priced packages range from $10-$30 dollars more than ours, even in the state tax return price (which is $36.99 for Deluxe, Premium and Self-Employed). That's more than $12-$17 higher than our state price, depending on the tier.
Our self-employed interview, which has become one of our best features, is $30 less. That's a pretty significant chunk of change, and we know you freelancers, contractors and side-hustlers are looking to save every penny you can, right?
TaxSlayer™

TaxSlayer structures their pricing a bit differently. Their Classic tier is $8 cheaper than our middle tier, but doesn't include live chat support unless you upgrade to Premium. 1040.com, on the other hand, provides chat to every customer, even if you file for free. TaxSlayer's self-employment interview is also $10 more expensive than ours, but it includes one free state return.
TaxAct™

TaxAct's Plus tier is $27, which is similar to our middle tier, priced at $24.95. Their Freelancer tier is $39, about $6 cheaper than ours. However, their state return price is $37 for the Plus, Freelancer, and Premium packages, making our state price anywhere from $12-$17 cheaper. If you have to file in more than one state, that can add up quickly.
TurboTax™
And now we come to the Goliath of the industry: TurboTax.

If you don't qualify for the Absolute Zero, then you pay $39.99. That's only $5 less than our highest-priced tier. Our self-employment option is a full $45 cheaper than their $89.99, and it still includes all our guarantees. You can also see that their state price, outside of the free tier, is $36.99, which is anywhere from $12-$17 more expensive than our state price.
How'd we do?
The bottom line is that your price for any tax product is going to depend largely on your tax situation. Our pricing is very competitive — cheaper, in many situations — and what makes us different is that we don't force you to choose a tier up front. That guarantees our lowest price once you've completed your return. No more analyzing charts and long bullet lists to figure out which package you might qualify for. Plus, millions will qualify for FREE because of their simple tax situation, and the most you would ever pay on 1040.com to file your federal tax return through April 15 is $49.95.
On top of saving you money, we also donate to Healing Waters International for every return filed, even if you file for free. That's because the donations come out of our own pockets, not from your filing price or your refund. It's our way of turning the obligation into opportunity.
No, we don't have million-dollar advertising budgets and Super Bowl ads, but we've got a great product that is simple to use and will get you your biggest possible refund, guaranteed. So are you in? Start filing your taxes with 1040.com!
Sign up for more of this.
Subscribe to our blog for year–round finance strategies and tax tips. We're here to remove the dread from filing taxes.
Thank you! Your submission has been received!
Oops! Something went wrong while submitting the form.
Please complete the reCaptcha.
It's not too good to be true. See what others are saying.