Are 1040.com's Prices Good?
by Susannah McQuitty
You got this—all you have to do is start!
We make filing taxes delightfully simple with one, flat–rate price. Every feature included for everyone.
Start filing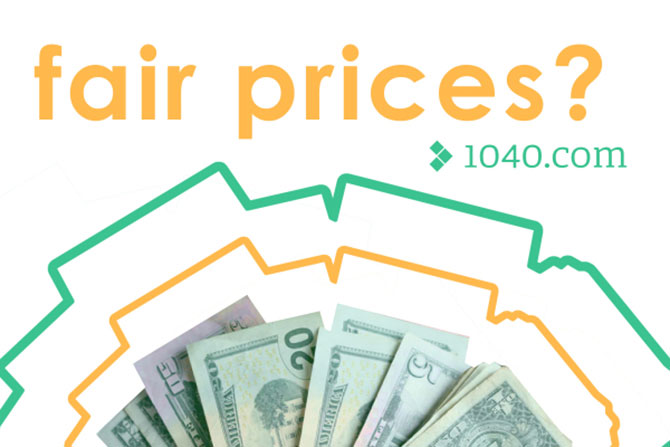 You want your biggest refund for the lowest price as easily as possible—that's the bottom line when it comes to filing your taxes. We get that, and we've narrowed our pricing down to a system that works in your favor.
Everyone's tax situation is different, and millions can file with 1040.com for free. The people who have the more complicated taxes are the ones who win the most with 1040.com, though: It's usually much less expensive than the competitor price tag, and our system is seamless. Let's take a look at which filers get the most bang for their buck with 1040.com.
Freelancers, it's your lucky day
Running your own business? If this isn't your first rodeo doing your self-employed taxes, you know that wrangling a tax return isn't for the faint of heart—and can rack up the bucks pretty quick no matter how you file.
Meet 1040.com's freelance pricing at just $49.95 (actually, $44.95 through February) for your federal return and $24.95 for your state. Take our intuitive Schedule C filing process with that price and you get a smart interview system without breaking the bank.
And how does that offer measure up to other freelance and small business returns on our competitor's sites? See for yourself:
Turbo: $89.99 (discounted from—gulp—$119.99) + $39.99 state
Block: $79.99 (discounted from—yikes—$104.99) + $36.99 state
TaxAct: $49.95 + $39.95 state
TaxSlayer: $47 + $29 state
Not too shabby, if we do say so ourselves.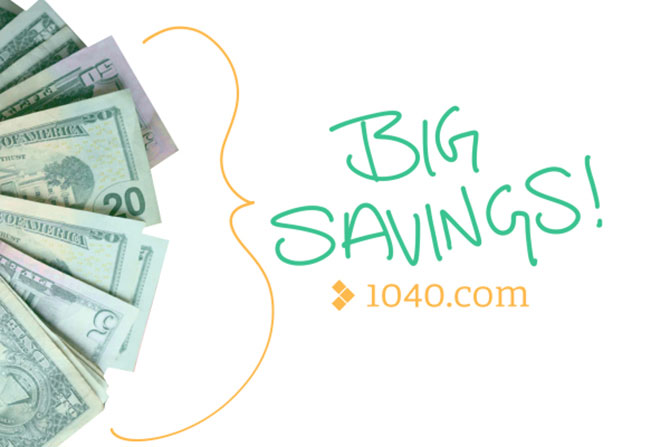 State taxes? Let's save some money
Just when you thought you were done filing, your state return comes flying out of left field. All but seven states have income tax, so most Americans have to deal with adding a state return when they file.
We've made state taxes easy on you, though—we take info from your interview questions in the system and automatically fill in your state return. Just give it an extra look, make sure all your info is complete, and you're done.
On top of that, taxpayers who don't qualify for a free state return will pay the least for their state with 1040.com when compared to the other services below. At 1040.com's highest state price, you'll still only pay $24.95. Compare that to the competition and the advantage is pretty clear:
TaxAct is at $39.95 for Deluxe and Premier
Turbo charges $39.99 per state for all of their products except the Free edition
H&R Block charges $36.99 for all except their Free tier
TaxSlayer is at $29 for all but their Free tier
That's a win for you!
So what do other users say?
You don't have to take our word for it! Here's what our filers are saying:
"First time doing with this website and it was very easy and cheap."
"Turbo Tax wanted to charge me $80. Thank you for allowing me to do it for free. I do not make much money so this was helpful!"
"I thought this was going to be hard but this was an easy process and saved me money!"
"Great experience. Love the ease of filing on this site and I always get my maximum refund! :) Thanks!"
"Quick, easy, and affordable. 10/10 will file again next year."
Get your biggest, fastest refund—no matter what you pay
Bottom line: Our pricing is transparent, affordable, and competitive. Everyone has a different tax situation, and many benefit most with 1040.com—so what are you waiting for? Get started on your taxes with 1040.com today and get it done!
Sign up for more of this.
Subscribe to our blog for year–round finance strategies and tax tips. We're here to remove the dread from filing taxes.
Thank you! Your submission has been received!
Oops! Something went wrong while submitting the form.
Please complete the reCaptcha.
It's not too good to be true. See what others are saying.