Marriage and Taxes
by Cheryl Avery
You got this—all you have to do is start!
We make filing taxes delightfully simple with one, flat–rate price. Every feature included for everyone.
Start filing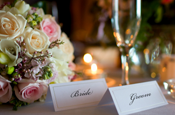 Now that you've pronounced your "I Do's," and the honeymoon is over, the last thing on your mind is taxes. But if you're soon to be married or just married, you'll need to review your changing tax status. Here are seven tips for newlyweds or those who soon will be.
Notify the Social Security Administration. Report any name change to the Social Security Administration so your name and Social Security number will match when you file your next tax return. File a Form SS-5, Application for a Social Security Card, at your local SSA office. The form is available on SSA's website at www.ssa.gov, by calling 800-772-1213 or at local offices.
Notify the IRS if you move. If you have a new address you should notify the IRS by sending Form 8822, Change of Address. You may download Form 8822 from www.IRS.gov or order it by calling 800-TAX-FORM (800-829-3676).
Notify the U.S. Postal Service. You should also notify the U.S. Postal Service when you move so it can forward any IRS correspondence or refunds.
Notify your employer. Report any name and address changes to your employer(s) to make sure you receive your Form W-2, Wage and Tax Statement, after the end of the year.
Check your withholding. If both you and your spouse work, your combined income may place you in a higher tax bracket. You can use the IRS Withholding Calculator available on www.irs.gov to help you determin the correct amount of withholding for your new filing status. The Calculator will give you the information you need to complete a new Form W-4, Employee's Withholding Allowance Certificate. You can fill the form out online and print it and give it to your employer(s) so the correct amount is withheld from your pay.
Include all necessary forms and schedules. Attaching all applicable forms to your Form 1040 can help save money. For example, newly married taxpayers may find that they now have enough deductions to itemize on their tax returns. Itemized deductions must be claimed on a Schedule A, Itemized Deductions.
Choose the best filing status. A person's marital status on Dec. 31 determines whether the person is considered married for that year. Generally, the tax law allows married couples to choose to file their federal income tax return either jointly or separately in any given year. Figuring the tax both ways can determine which filing status will result in the lowest tax, but usually filing jointly is more beneficial.
For more information about changing your name, address and income tax withholding visit www.irs.gov.  IRS forms and publications can be obtained from www.irs.gov or by calling 800-TAX-FORM (800-829-3676).
Sign up for more of this.
Subscribe to our blog for year–round finance strategies and tax tips. We're here to remove the dread from filing taxes.
Thank you! Your submission has been received!
Oops! Something went wrong while submitting the form.
Please complete the reCaptcha.
It's not too good to be true. See what others are saying.