Giving Back - and How It Can Benefit You
by Wynette Wiles
You got this—all you have to do is start!
We make filing taxes delightfully simple with one, flat–rate price. Every feature included for everyone.
Start filing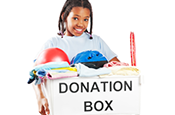 According to a report from the Atlas of Giving, Americans gave nearly $347 billion in 2011 to their favorite charity. And despite the economic conditions, the number of contributions continues to rise each year. Many of these contributions are made by individual taxpayers who claim them as deductions on their tax returns.
The benefits of giving to charitable organizations - no matter what the focus - are pretty obvious. But to ensure that your wallet shares in the benefits, here are a few points to keep in mind the next time you start writing the check:
In order to be deductible, your contribution must be made to a qualified organization. Contributions made to specific individuals, political organizations or candidates don't qualify. Other than churches and governments, most organizations must apply to the IRS to be considered a qualified 501(c)(3) organization. There are several ways to find out if a charitable organization is qualified. You can always contact the organization directly and ask about their tax exempt status and to see their letter from the IRS proving their status. You can also call the IRS at 877-829-5500.
After you finish reading this, go to www.IRS.gov and use their Exempt Organizations Select Check to look for tax exempt organizations, or to see what groups have lost their exempt status.
Remember that charitable contributions are deductible only if you itemize. In that case, use Form 1040, Schedule A.
So what contributions can be deducted? Generally, you can deduct your cash contributions and the fair market value of most property donated to a qualified organization. Keep in mind that special rules do apply to certain types of donated property, including boats, cars, clothing and household items. Consult the instructions for Schedule A to see if the special rules apply in your case.
Get It In Writing
If your donation - whether cash or property - is valued at more than $250, you'll need additional documentation. A written statement from the charitable organization acknowledging receipt of your donation is required. That statement should show the amount of cash or description of property contributed and the fair market value of the property. If the charitable organization provided any goods or services in exchange for your donation, that should be on the statement as well.
When we donate big things - a used car, for example - it gets a little more complicated. If the donated property is worth over $500, you'll have to file Form 8283, (Noncash Charitable Contributions) in order to claim a deduction. If the property is worth over $5,000, you'll need an appraisal attached to Form 8283 as well.
Many of us donate to a charitable cause all year long - which is a good reason to keep accurate records. All donations, whether monetary or property, cash or check, large or small, must be documented in order to be deductible. That documentation can be a
bank or credit card statement, a cancelled check or a payroll deduction record. A written statement from the qualified charity must include the charity's name, date and amount of the contribution. Now, technology has given us donations by text messaging. If that's the method you use, a telephone bill with the charity's name, date and amount of the contribution meets the record-keeping requirements.
Timing Is Everything
Don't wait too long before claiming your good deed on your taxes. Most taxpayers' contributions are only deductible in the same year they are made. If you make a pledge to a charity, it qualifies as a tax deduction for the year the pledge was made. Some taxpayers make an end-of-year donation by check or credit card. Typically, this qualifies as a tax deduction for that tax year, even though the credit card bill or bank account is debited after December 31.
For more information in charitable contributions and their tax implications, call IRS at 800-TAX-FORM (800-829-3676) or check out the IRS' Publication 526, Charitable Contributions or Publication 561, Determining the Value of Donated Property.
Sign up for more of this.
Subscribe to our blog for year–round finance strategies and tax tips. We're here to remove the dread from filing taxes.
Thank you! Your submission has been received!
Oops! Something went wrong while submitting the form.
Please complete the reCaptcha.
It's not too good to be true. See what others are saying.