Your Taxes: A Work in Progress
by Bob Williams
You got this—all you have to do is start!
We make filing taxes delightfully simple with one, flat–rate price. Every feature included for everyone.
Start filing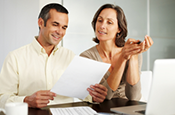 Let's see … you've dragged out that box of 2012 receipts, dug through your kitchen junk drawer to find a calculator that works, sharpened a few pencils and found that really big eraser. So, you should be all ready to do your taxes, right?
Not quite yet.
Because of the January tax law changes made by Congress, you have a little extra time before you send that return whizzing through the Internet toward the IRS. The tax return filing season will start January 30 for most taxpayers, according to the Internal Revenue Service.
The extra time will be needed by the IRS to change their computer systems to reflect the changes enacted by Congress in the American Taxpayer Relief Act (ATRA). "We have worked hard to open tax season as soon as possible," said IRS Acting Commissioner Steven T. Miller. "This date ensures we have the time we need to update and test our processing systems."
The vast majority of American taxpayers -- some 120 million households -- will be able to file beginning Jan. 30. These are
taxpayers with simple, straightforward returns. Those returns that are a little more complicated -- say, with residential energy credits, depreciation of property or general business credits -- will have to wait until late February or early March to file. Those returns require more extensive forms, and so, require more extensive computer programming changes by the IRS.
We agree with Acting Commissioner Miller. "The best option for taxpayers is to file electronically," Miller said.
Yes, there are delays to e-filing this year. But if you think you can do an end-run around that by filing a paper return and mailing it
in, Miller says that's a recipe for a late refund. Maybe a very late refund.
The IRS will not process paper tax returns at all before Jan. 30. Miller says there's no advantage to filing a paper return before that date, and you'll get your refund much faster if you e-file -- even with the Jan. 30 start date.
Our advice for individual taxpayers is to start work on your return as usual. You can sign onto your account on our website and dive right in. Take your time and make sure your information is correct, that you have your supporting documents and your
figures are as accurate as they can be. Then, wait for the green light to hit The Button to e-file.
Fast Track or Not-So-Fast Track?
If your return is affected by the Alternative Minimum Tax, or AMT, you should be able to file beginning on Jan. 30. The same goes if your return contains state and local sales tax deductions; the higher education tuition and fees deduction; or the educator expense deduction.
But other forms will have to wait for the IRS to complete their computer programming changes. So these forms will require the return to be delayed until at least late February:
Form 5695 - (Residential Energy Credits)
Form 4562 - (Depreciation and Amortization)
Form 3800 - (General Business Credits)
Here's the complete list of forms that will be accepted by the IRS in late February or early March. The IRS will announce a date later. If your return has one of these forms, it's best to hold it until your filing date has been determined.
Form 3800 General Business Credit
Form 4136 Credit for Federal Tax Paid on Fuels
Form 4562 Depreciation and Amortization (Including Information on Listed Property)
Form 5074 Allocation of Individual Income Tax to Guam or the Commonwealth of the Northern Mariana Islands
Form 5471 Information Return of U.S. Persons With Respect to Certain Foreign Corporations
Form 5695 Residential Energy Credits
Form 5735 American Samoa Economic Development Credit
Form 5884 Work Opportunity Credit
Form 6478 Credit for Alcohol Used as Fuel
Form 6765 Credit for Increasing Research Activities
Form 8396 Mortgage Interest Credit
Form 8582 Passive Activity Loss Limitations
Form 8820 Orphan Drug Credit
Form 8834 Qualified Plug-in Electric and Electric Vehicle Credit
Form 8839 Qualified Adoption Expenses
Form 8844 Empowerment Zone and Renewal Community Employment Credit
Form 8845 Indian Employment Credit
Form 8859 District of Columbia First-Time Homebuyer Credit
Form 8864 Biodiesel and Renewable Diesel Fuels Credit
Form 8874 New Markets Credits
Form 8900 Qualified Railroad Track Maintenance Credit
Form 8903 Domestic Production Activities Deduction
Form 8908 Energy Efficient Home Credit
Form 8909 Energy Efficient Appliance Credit
Form 8910 Alternative Motor Vehicle Credit
Form 8911 Alternative Fuel Vehicle Refueling Property Credit
Form 8912 Credit to Holders of Tax Credit Bonds
Form 8923 Mine Rescue Team Training Credit
Form 8932 Credit for Employer Differential Wage Payments
Form 8936 Qualified Plug-in Electric Drive Motor Vehicle Credit
One last piece of advice: Understand that everyone is in the same boat. The delays we've mentioned apply to every taxpayer -- and every income tax service -- in the country. There's no way to magically appear at the head of the line.
But if we do our preparation now, we can get our returns in the pipeline as soon as the open the gate. And we can put this worry behind us.
Sign up for more of this.
Subscribe to our blog for year–round finance strategies and tax tips. We're here to remove the dread from filing taxes.
Thank you! Your submission has been received!
Oops! Something went wrong while submitting the form.
Please complete the reCaptcha.
It's not too good to be true. See what others are saying.