It's a New Year - It's a New Us
by Bob Williams
You got this—all you have to do is start!
We make filing taxes delightfully simple with one, flat–rate price. Every feature included for everyone.
Start filing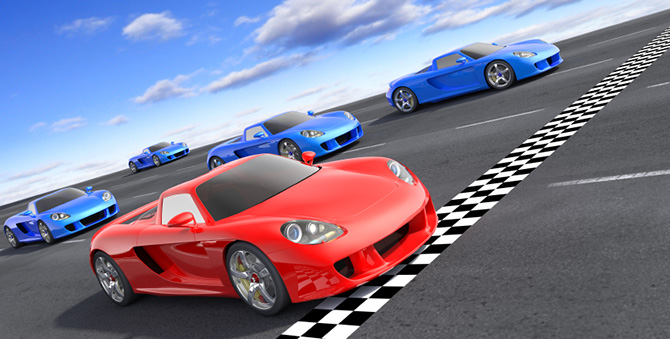 Ah, everybody at the office loves it when somebody gets a new car. We get to gather 'round, marvel at the sleek new body, the comfy new interior and that flashy paint job. Oh, look – cupholders!
And sooner or later, one of the guys wants to take a look under the hood, just to see where all those horses are that everybody keeps talking about. But no matter what appeals to you, it's pretty plain we're talking faster, easier, better, and more efficient – right?
With that in mind, we'd like to open the curtain on the new, improved 1040.com.
More than just a new paint job, it's a whole new set of wheels to Taxville. Faster, sleeker, quicker in the corners and with all the comforts of home. And it's all engineered to get you to that April 15 finish line just a little bit faster. Answer a few questions up front, and you can be zipping through tax forms like the chicane at Le Mans.
Start Your Engines
From the moment you slide behind the wheel, you've got everything at your fingertips. Simply scroll down to see our pricing, access our free tax estimator, pick up some Tax Tips, or delve a little deeper into our blog posts.
Put your key in the ignition and fire that puppy up. Or, in this case, enter your user name and password. We've made that easy, right there on the home page. And we give you all the right reasons up front for using 1040.com:
Smart – You get the fastest possible refund and automatically get the lowest-price solution for your tax situation.
Simple – We know taxes can be confusing, and that's why we offer an easy-to-use interview process to help you fill out just the forms you need.
Convenient – We put YOUR convenience first, which is why you can pay any fees from your federal refund – no credit card or debit card required.
And did we mention you can get a jump on the competition?
While the IRS won't be accepting returns until Jan. 31, 1040.com will. In other words, you can efile your return right now – as in today – and we'll hold your return on our secure servers until the IRS drops the checkered flag.
You'll be making your victory lap while everybody else is still in the pits.
Tanked Up and Ready to Roll
So what are you waiting for? Come on over, kick the tires a bit. Hop in for a free test drive. Then you're ready for the Real Deal. Before you know it, you'll be jammin' down that electronic highway – putting you in the garage, with your feet up and sipping that beverage of choice – in record time.
Sign up for more of this.
Subscribe to our blog for year–round finance strategies and tax tips. We're here to remove the dread from filing taxes.
Thank you! Your submission has been received!
Oops! Something went wrong while submitting the form.
Please complete the reCaptcha.
It's not too good to be true. See what others are saying.