What You Meant Was ...
by Bob Williams
You got this—all you have to do is start!
We make filing taxes delightfully simple with one, flat–rate price. Every feature included for everyone.
Start filing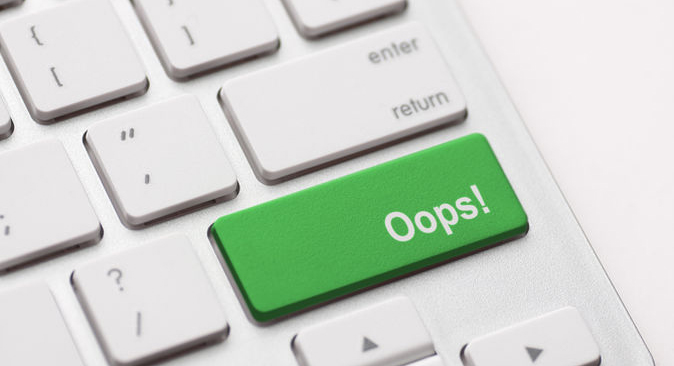 The simple truth of being human is, everybody makes misteaks.  And no matter how hard we try to check over our tax returns before we e-file, many times the odd oops creeps in. And you see IT.
And you've already e-filed. And it's been accepted by the IRS. Dang.
Cheer up. If you find a mistake on your return after the fact, you can file an amended return. It's basically an income tax do-over, courtesy of the Form 1040X.
But before we tell you how to do an amended return, understand there's one instance where you would not do an amendment. You normally don't need to file an amended return to correct math errors. The IRS will make those changes for you, thank you very much. And if you didn't include a needed tax form, the IRS will usually request that.
Amending Your Return
As we mentioned, use Form 1040X – Amended U.S. Individual Income Tax Return, to correct errors on your e-filed tax return. But unlike your original return, an amended return must be mailed to the IRS. It can't be e-filed.
The IRS says amending is usually needed if you made an error claiming your filing status, your income, deductions or credits on your original return.
There's a three-year window to file an amended return in order to claim a refund. That means you have three years from the date you e-filed your original return, or two years from the date you paid the tax, if that date is later. For example, the last day for most taxpayers to file a 2010 claim for a refund is April 15, 2014.
There are some special rules that may apply, so check out the 1040X instructions for those.
Amending more than one return? You'll need to prepare a 1040X for each year you amend. Write the year of the return at the top of the 1040X.
Amending on 1040.com
Since your return has already been accepted, you start the amending process with a 1040X. To add the screen, click on Review on the left, then search for "1040X" using the search box at the bottom of the screen.
Before you start filling out Form 1040X, make sure you print your original return, so that you'll have it to refer to.
Fill out Form 1040X with the information from your ORIGINAL return. At the bottom of the screen, you also must explain why you're amending your return. Save Form 1040X, then correct your return using the other forms on the site, as needed.
Then print your Form 1040X and mail to the IRS address provided in the Form 1040X Instructions. Make sure you sign page 2 of the 1040X.
If your state return is accepted, you'll also need to file an amended state return. Click States on the left, then find the amended form for your state. If the form is not listed, check your state's tax department website for information on how to amend your state return.
You can track your federal amended return here.
When to Pull the Trigger
If you're due a refund from your original return, wait until you get the refund before filing a 1040X to claim an additional refund. On the other hand, if you owe more tax, you should file the amended return – and pay the tax – as soon as possible to reduce any interest and penalties.
Sign up for more of this.
Subscribe to our blog for year–round finance strategies and tax tips. We're here to remove the dread from filing taxes.
Thank you! Your submission has been received!
Oops! Something went wrong while submitting the form.
Please complete the reCaptcha.
It's not too good to be true. See what others are saying.