Keeping You Safe with e-File
by Susannah McQuitty
You got this—all you have to do is start!
We make filing taxes delightfully simple with one, flat–rate price. Every feature included for everyone.
Start filing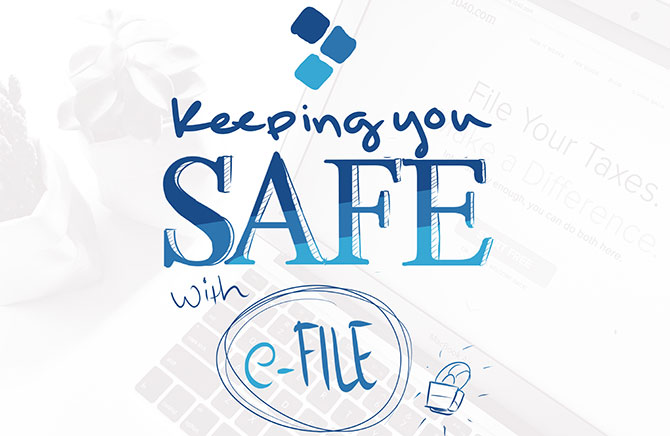 If you have ever been a bit uneasy buying stuff online, chances are you're not completely comfortable with e-filing your tax return – even with promises of free filing to tempt you. You're just trying to be a responsible adult, and we totally get that.
Even though e-filing is actually the safest way to handle your taxes, there are still a lot of misconceptions and fears about sending sensitive information over an internet connection – potentially even from your phone – into an online database. If you're still leery about e-filing, we've compiled the top 3 ways your information and identity is protected when you file with 1040.com.

Proving your identity with your prior-year AGI (Adjusted Gross Income)
Kind of a mouthful, isn't it? Trust me, though – it's not as complicated as it sounds, and it makes filing online a lot more secure. The IRS requires that you include your prior year AGI on your current year tax return as a way to prove you are who you say you are. Your AGI from last year is only recorded on last year's tax return (and anywhere you might have recorded it yourself), which makes it much harder for identity thieves and tax fraudsters to get ahold of.
If you filed with 1040.com last year, we automatically pull your prior year AGI from last year's return, so you don't have to dig through old tax records. In fact, we keep your tax returns on our secure server, free of charge, so you always have access to your prior-year information. Just another reason filing with 1040.com is smart and simple.
If you didn't file with 1040.com last year, check out our blog post on how to find your prior-year AGI and we'll get you on the right track.

Two-step verification
All right, let's just go ahead and take the collective groan. You've probably enjoyed the thrill of two-step verification before: You sign in, then you have to get a code, then you have to enter the code, and so on.
It may be a bit of a pain, but when a secure code will be either emailed or sent to your mobile phone via text to verify your identity each time you log in, your security is increased exponentially. And let's be real – we're both more interested in security than a little extra step, especially for tax info.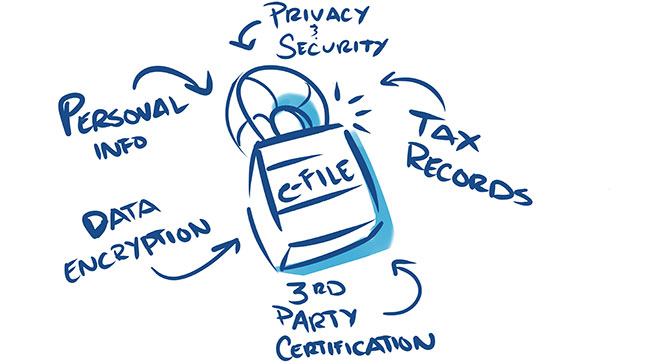 Encryption and privacy certification
Fancy lingo, big guns, people – when you're logged into 1040.com, every piece of information you transmit from your phone or computer is locked into the system with industry-standard SSL encryption. That ensures that your data is protected during the filing process. On top of our encryption, our enterprise privacy certification verifies that we meet high privacy and security standards set by a third party. We want you to know that we're not messing around with your personal information. We don't give it away. We don't sell it. We only use it for the explicit purpose for which it was provided. Period.
You have to be careful these days where you send your personal information online, even if it's something as simple as making an online payment. That's why we've taken the time and effort to make filing your taxes with 1040.com safe and secure.
Save
Save
Sign up for more of this.
Subscribe to our blog for year–round finance strategies and tax tips. We're here to remove the dread from filing taxes.
Thank you! Your submission has been received!
Oops! Something went wrong while submitting the form.
Please complete the reCaptcha.
It's not too good to be true. See what others are saying.