What is a Form 1040?
tax tips | May 26, 2017 | By Susannah McQuitty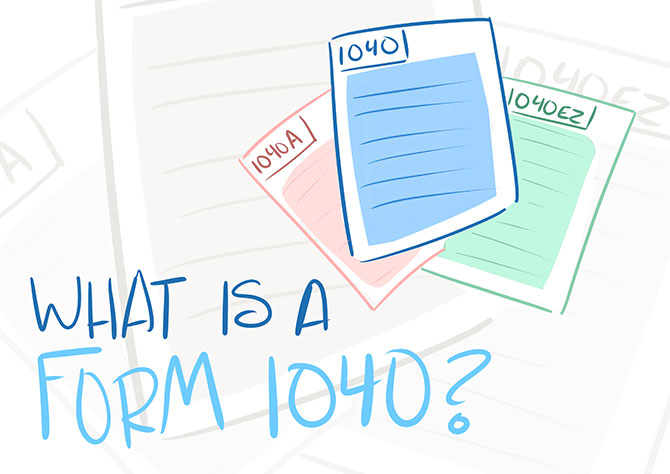 Tax Form 1040, the U.S. Individual Income Tax Return, is used to record how much money you made over the year (your gross income) and how much of that income is taxable after personal exemptions, tax credits and tax deductions.
Put simply, a Form 1040 is the backbone of your tax return. You know, that super-fun and ever-popular tax return that you fill out every year and send to the IRS to settle your annual income tax liability.
"Okay," you think, "I get it. But there's more than one Form 1040, right? Does it matter which one I use?"
Good question.
You're right: There are several different versions of a 1040, and which form you use depends on how simple (or in-depth) your tax return is going to be.
Generally, if you don't have children, make less than $100,000, claim the standard deduction and have W2 income, you'll qualify to use Form 1040EZ, which is the simplest version of Form 1040.
As life gets more complicated with stuff like dependents, investment income and retirement savings, you'll graduate to the two-page Form 1040A. This form is designed to handle the additional reporting requirements that come with your more complicated life.
The main Form 1040, also referred to as the "Long Form," is the catch-all pro. It handles all tax situations, all sources of income – including self-employment and rental income – and less common credits and deductions.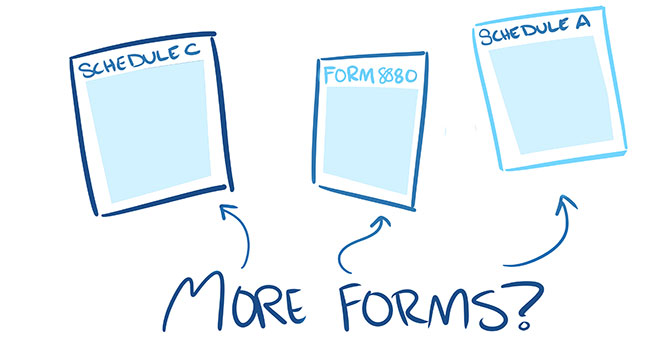 What about all of those other forms, schedules and worksheets?
Oh yeah, those. You'll notice that some information goes directly on Forms 1040EZ, 1040A and 1040, while other information is calculated and figured on supplemental forms, schedules and worksheets. Sometimes it takes a bit more data to determine your eligibility for a credit or deduction, and other times the math is complex enough to need a bit more space to calculate. One thing is certain: The more complicated your tax situation becomes, the more supporting forms you will have. Some examples are Schedule A for itemized deductions, Schedule C for business income, Schedule D for capital gains (and losses), Form 8880 for the retirement savings credit and Form 8863 for education credits.
So why do we call ourselves 1040.com?
We replace filling out paper forms by hand with an interview-style process that works no matter how simple or complex your tax situation is. No need to choose a specific Form 1040. You answer the questions, we'll fill in the appropriate forms, whether that's a 1040EZ, a 1040A or a long Form 1040. Once you're done, we'll crunch numbers and get your maximum refund every time.
That's our promise at 1040.com: Smart, simple taxes with a maximum refund guarantee.