Why Should I Pay to File My Own Taxes? 6 Reasons It's Worth It
by Susannah McQuitty
You got this—all you have to do is start!
We make filing taxes delightfully simple with one, flat–rate price. Every feature included for everyone.
Start filing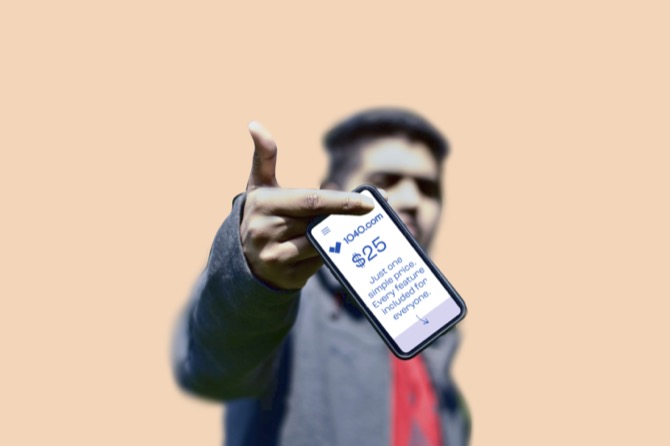 Every taxpayer in the U.S. is required by law to file a tax return every year, and millions of us have a relatively simple tax situation. So, why should you pay to file your taxes online? I mean, there are free options out there, right?
Here at 1040.com, fixing a simple, fair price for everyone is one of our top priorities—so here are 6 reasons why we believe our flat $25 rate is a steal for the 1040.com experience.
Our experts carve IRS forms down into a simple question-and-answer format
Here's what the front page of the 1040 form looks like: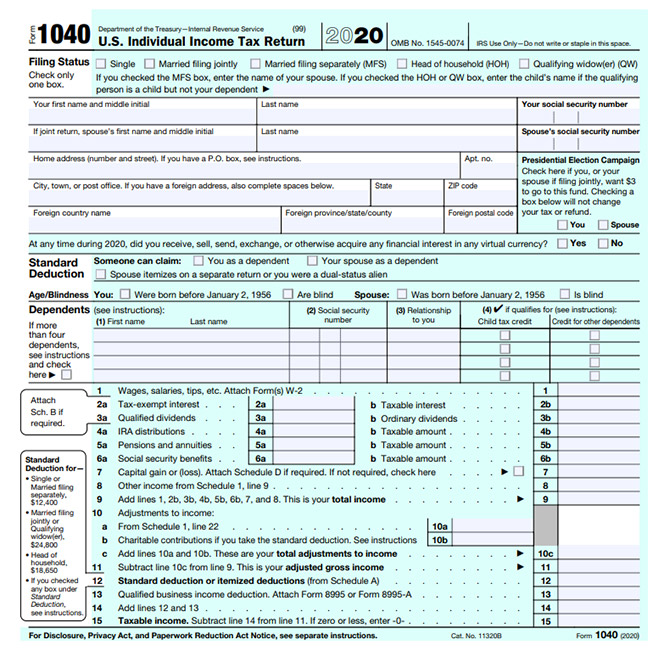 Yeesh, right?
There are hundreds of federal and state tax filing forms that look like this, supported by thousands of pages of instructions, and that doesn't even include publications (try adding thousands more pages). For example, Publication 17, the tax guide for filing individual tax returns, is 136 pages long.
All those rules and regulations are our experts' bread and butter. Each year, our tax analysts at 1040.com study the instructions, evaluate the forms, and design a walkthrough system that steps you through the process in plain English.
The analysts then pass the walkthrough along to our technology teams, who build the platform with tips to answer questions you might have along the way, like "What's the difference between taxable and tax-exempt interest," "How do I know if I'm a dependent," or "What is Adjusted Gross Income?"
The end result? Filing with 1040.com is like having a tax-savvy friend walk you through the process, helping you report your information accurately and find the tax breaks you qualify to claim.
Customer support offers fast, friendly help when you get stuck
As you're filing your taxes, you eyes may glaze over and things may begin to blur together—we get it, and we're here to help with our online support team. They can point you in the right direction, sending you directly to whatever forms or guidance you need to get back on track.
Automatic calculations with guaranteed accuracy
If math sends a shiver down your spine, this is going to be one of your favorite features. When you file online, you get live calculations that happen quietly in the background—if anything seems off to the system, you'll be prompted to double-check your numbers and confirm whether they're accurate.
Plus, we at 1040.com back our calculations with a 100% accuracy guarantee—that perfect score is based on our 120 developers, software analysts, Enrolled Agents (EAs), Certified Public Accountants (CPAs) and tax experts who are analyzing and programming thousands of federal and state tax forms to conform with IRS and state tax law.
It's basically a tax-savvy superheroes team.
No sneaky "free" language
Forgive us for being blunt here for a minute, but it's true—some companies offer free to some, but you never really know if it will be free until you finish your tax return. That's incredibly frustrating when you started with a free package only to be hit with "Gotta add a specific form? Ah, sorry bud—you've got to pay $80+ now."
Many offers are based on Adjusted Gross Income (AGI), and who knows their AGI before they start filing? Some offers don't include state, so you'll still end up paying to file both returns. Some are based on what state you live in, and others may disqualify you for your age.
It's true that many people truly can file for free on some websites, but the systems thrive off the people who come for free and are too far into their taxes to quit once they realize it's going to cost something.
Enter our flat $25 rate. No matter who you are, what forms you add, how many returns you need to file, or how much money you make, everyone files for the same $25.
Federal and state both in one place, automatically filed
That's right—federal and state returns are included for our flat rate price. How about that for a two-for-one deal?
Plus, the returns are integrated so you don't have to enter repetitive information. Your info from the federal side is automatically pulled over to the state return, since most of the information needed is the same for both. Your state taxes are virtually done before you start!
Oh, and for those of us who have to file multiple state returns, the price is still just $25. We're sticklers for that flat rate.
1040.com puts a priority on speed (which means a fast refund!)
And now we come to what's probably the biggest motivator—a fast tax refund! 1040.com offers the fastest possible way to receive your refund through the electronic filing system. And we absolutely should—we were one of five software companies to work with the IRS back in the late 80s (yes, think parachute pants and shoulder pads) to pioneer electronic filing of tax returns.
No one, not even the big guys like Turbo Tax and H&R Block, can get your refund faster.
Fun fact: Our teams have 30+ years of experience in electronic tax return processing. Over the years we've processed over 200 million federal and state tax returns electronically through our processing technology. Yep, this is our jam.
At 1040.com, filing taxes online is just $25 for everyone
When you file with us, you'll get all of the above for one flat $25 rate—because why would you want to wade through complicated pricing tiers or a maniacal maze of potentially free offers trying to figure out what you're going to pay, only to get surprised later? We believe in keeping things as simple as possible, and for all these perks, we think $25 is an awesome deal!
Ready to file? Get started today by signing up or logging in!
Sign up for more of this.
Subscribe to our blog for year–round finance strategies and tax tips. We're here to remove the dread from filing taxes.
Thank you! Your submission has been received!
Oops! Something went wrong while submitting the form.
Please complete the reCaptcha.
It's not too good to be true. See what others are saying.