You can stop holding your breath...
by Bob Williams
You got this—all you have to do is start!
We make filing taxes delightfully simple with one, flat–rate price. Every feature included for everyone.
Start filing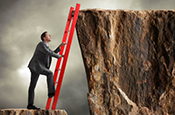 We're sure you've heard the news by now that lawmakers in Washington have pushed through legislation that basically averts the so-called "Fiscal Cliff" effects on the economy. And whether the cliff has been reduced to a gopher hole -- or still looms out there somewhere in the economic darkness -- we'll leave to the political pundits.
The bigger question is, what does it mean for YOUR taxes this year?
First, remember our discussion in our last post about the AMT, the Alternative Minimum Tax, and how it had never been kept up with inflation? Well, this new legislation put a permanent patch in place that does just that. So not only is the AMT fixed for this tax season, it's fixed, period. And that's some of the best news, since the IRS said it could take them as late as March to change their computer system over to any resolution other than the expected patch.
That, however, does not mean this season will be delay-free when it comes to filing your taxes. The new legislation (The American Taxpayer Relief Act of 2012) includes the "extender" provisions, which basically extend many of the tax cuts
that were in place on Dec. 31, 2012.
While that's good news for your tax return, there is some work we need to do behind the scenes to make those tax cuts available. And that takes a little time. As a guide, we can look back to the 2011 tax season, when similar cuts were extended. Some 9 million taxpayers could not file until mid-February that season, including everyone itemizing their deductions on Schedule A.
Acting IRS Commissioner Steven Miller told Congress back in November that he anticipated a similar outcome if the IRS was presented with late enactment of tax extender legislation. So, check with us often for updates on how best to time your return.
In Summary …
As in most things, planning is key for a smooth income tax filing experience. To help you with that, we've put together a list of the forms we will be releasing in the coming days, in preparation for your filing:
Form 8874 - New Markets Credit
Form 8908 - Energy Efficient Home Credit
Form 8909 - Energy Efficient Appliance Credit
Form 3468 - Investment Credit
Form 6765 - Credit for Increasing Research Activities
Form 8844 - Empowerment Zone Credit
Form 4136 - Credit for Federal Tax Paid on Fuels
Form 4136 - Credit for Federal Tax Paid on Fuels - Part 2
Form 5884 - Work Opportunity Credit
Form 6478 - Credit for Alcohol Used as a Fuel
Form 8845 - Indian Employment Credit
Form 8864 - Biodiesel Fuels Credit
State and Local General Sales Tax Deduction Worksheet
Form 8835 - Renewable Electricity and Refined Coal Production Credit
And of course we'll be making changes to other forms to reflect the recent work in Congress.
We plan to relaunch our website on Jan. 7, barring unforeseen hiccups in the federal tax process. And of course, you can start your income tax return with us at that time, and should there be any delay in filing your return due to the recent legislation, you can always come back and pick up where you left off, once the changes are in place.
So sit back for just a little longer, while we get the nuts and bolts of your tax vehicle all tightened down and ready to roll. It shouldn't take long.
And the ride should be a lot smoother now …
Sign up for more of this.
Subscribe to our blog for year–round finance strategies and tax tips. We're here to remove the dread from filing taxes.
Thank you! Your submission has been received!
Oops! Something went wrong while submitting the form.
Please complete the reCaptcha.
It's not too good to be true. See what others are saying.