Our Haunted History
by Bob Williams
You got this—all you have to do is start!
We make filing taxes delightfully simple with one, flat–rate price. Every feature included for everyone.
Start filing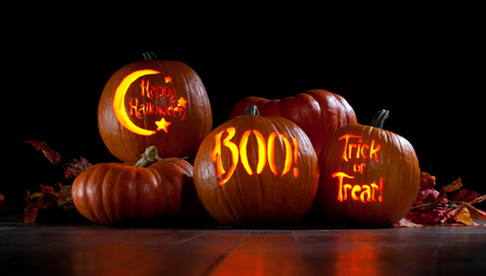 Ah, Fall. The leaves have turned; the air is crisp, letting us know that winter is not far away. And that means it's time for Halloween!
We know a lot has been written about the origins of Halloween. If we tried to rehash Halloween history here it would take up way too much of your time. So we'll try to haunt the high spots, give you a "Boo" or two, and send you on your way.
In The Beginning
Most people nowadays know Halloween has its roots in the ancient Celts of Europe. Way back, say, 3,000 B.G. (Before Google), the beginning of winter was a scary time. The natural world of plants and crops died in preparation for the dark, cold winter, and animals disappeared to hibernate. In a world gone dormant, humans were left behind to cope until spring.
Back then, we humans were a pretty superstitious bunch. The Celts saw November 1 as the beginning of the New Year, as well as the end of summer. On the night before the New Year, they believed, the line between the world of the living and the world of the dead blurred. October 31 became the festival of Samhain (pronounced SAH-win), when the portal to the afterlife opened just enough to allow souls of the departed to visit their earthly homes. The living made them welcome, preparing feasts and places set for them at table.
Some celebrants would put on masks or costumes, in hopes of fooling any spirits that may seek vengeance upon the living before going to their new home.
In modern times, one of the closest equivalents may be found in Mexico, where Dia de Muertos (The Day of the Dead) is celebrated on November 1 in connection with All Saints Day and All Souls Day in the Catholic Church. While the Mexican holiday has its roots in Aztec beliefs, the premise is basically the same: To offer prayers and food to the souls of the departed in hopes they visit the living and in turn give their living relatives their blessings.
Similar festivals honoring the dead are held in Asia and Africa, although not necessarily tied to the November 1 date.
Fast Forward
In the year 835, All Saints' Day was moved to November 1 by Pope Gregory IV, taking the place of the pagan Samhain festival. All Saints' was also called All Hallows, so October 31 was All Hallows Eve – shortened later to Halloween. For Christians, it was a time to pray to honor the saints and for the recently departed.
After the Protestant Reformation, Halloween lost favor in Britain, which instead celebrated Guy Fawkes Night (marking the arrest a Catholic conspirator who plotted to blow up the English House of Lords) on November 5. But Halloween remained very popular in Scotland and Ireland, which both had a different view of the Guy Fawkes affair.
Halloween, however, didn't really make it to the U.S. until the 19th century, brought by Irish and Scottish immigrants. By the early part of the 20th century, it was celebrated coast to coast and by Americans of all social and religious backgrounds.
Certainly, we're only scratching the surface of this scary little celebration. But what you need to know is, Halloween has a long and interesting history, with the present form of the holiday pulling elements from a number of different celebrations and traditions.
Halloween Hall of Fame
We couldn't resist doing a little research and coming up with a list of notables who were born on Halloween. Sure, it's the luck of the draw, but it makes for good supper-table talk!
English Poet John Keats leads the list, followed by Boston Custer, brother of Gen. George Armstrong Custer. Juliette Gordon Low, founder of the Girl Scouts, was a Halloween baby, as was jazz great Ethel Waters, who made the song "Stormy Weather" famous. Astronaut Michael Collins, who orbited the moon in the Apollo space program; TV anchorman Dan Rather; and actor Michael Landon were all born on Halloween. And Peter Jackson, the director of the Lord of the Rings films; actor John Candy; former TV anchorwoman Jane Pauley; and Willow Smith, the young actress/singer daughter of actor Will Smith, are also on the haunted, er, hit list.
Of the famous people who have died on Halloween, none are more famous than Harry Houdini. His demise was both bizarre and shrouded in mystery – much as Harry would have wanted. The story goes that Harry occasionally would challenge people to slug him in the stomach to demonstrate his power of will. And when one McGill University student took a shot at him, something went wrong. He died in Detroit, Mich., shortly after – on Oct. 31, 1926 – due to peritonitis from a ruptured appendix. An autopsy showed Houdini had acute appendicitis at the time. Harry Houdini was 52.
And while we don't have much say on whether we are born or die on Halloween, these folks certainly had a choice when it came to getting married; they all got hitched on Halloween: Singer Mel Torme and Arlene Miles; actor Dennis Hopper and "Mamas and Papas" singer Michelle Phillips; and the Rev. Al Sharpton and Kathy Jordan.
But our Number One Marriage Made in Halloween: Rocker and film director Rob Zombie and Sheri Moon. You might say this Zombie's been howling at the Moon ever since.
Now, if I can just find my "Duck Dynasty" costume …
Sign up for more of this.
Subscribe to our blog for year–round finance strategies and tax tips. We're here to remove the dread from filing taxes.
Thank you! Your submission has been received!
Oops! Something went wrong while submitting the form.
Please complete the reCaptcha.
It's not too good to be true. See what others are saying.