No Words for "Thank You"
by Bob Williams
You got this—all you have to do is start!
We make filing taxes delightfully simple with one, flat–rate price. Every feature included for everyone.
Start filing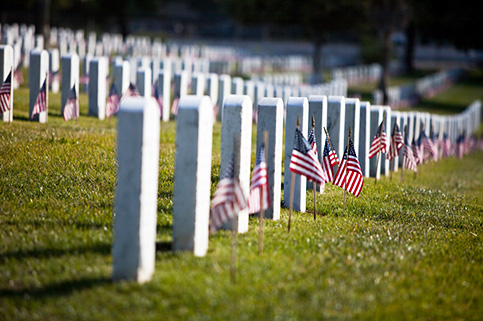 Most times here, we're asking you to think ahead. "Plan now for tax season," we say. "Get that tax return in before the deadline," we harp.
Today, we're asking you to think back.
Oh, first -- if you're wearing a hat, please remove it. The men and women we're about to introduce deserve that respect.
Some Gave All
If you haven't noticed, this week marks our observance of Memorial Day -- that day set aside to remember the brave men and women who died while serving in the Armed Forces. And while most of our traditions are pretty recent in terms of the rest of the world, this one is almost 150 years old, and has remained true to its roots.
While the holiday was initiated to honor those Union and, yes, Confederate soldiers who died during the Civil War, it eventually took in all American soldiers who died while in service to the nation, regardless of the conflict.
Many Americans use the day to visit memorials and cemeteries, as well as the graves of those who died in military service. At military cemeteries, it's common to see each soldier's resting place decorated with a small American flag, lovingly placed by a volunteer. At Arlington National Cemetery, thousands of small flags grace the wind on this day. And that's a tradition that's older than the holiday itself.
Decoration Day
Let's do a little time traveling, shall we?
Turn the clock on the WayBack Machine to the 1860s. The American Civil War is still raging across the South. But while the bullets still fly, soldiers' graves are being decorated in memorial in the North and the South. Records suggest that as early as 1861, ladies in Warrenton, Va., decorated the first soldier's grave. (It should be noted that informal Decoration Day gatherings honoring deceased loved ones had been going on in rural Southern cemeteries before the Civil War, a practice that continues today.)
After the war, there were a number of memorial celebrations. One of the most well-known was in Charleston, S.C., where thousands of former slaves turned out to honor Union prisoners of war who had died in captivity there.
But it seems the roots of Memorial Day as a governmental holiday come from the South, where Confederate Memorial Day had been in place since 1866. Some historians say U.S. Gen. John A. Logan, commander of the Grand Army of the Republic, used the South's holiday as a model for a "Decoration Day," to be observed every year, nationwide. It was set for May 30, according to tradition, because it was NOT the anniversary of a battle.
Back to the Present
No matter why they picked the day, and no matter who did it first, our point here is simple: Use this day, this week, to give thanks for those brave men and women who perished while defending our country. No matter whether it was Antietam, Flanders, Normandy, Inchon, Khe Sanh, Baghdad or Kabul, all who fell are heroes. The road to our national future was paved with the lives of those who gave all for us -- and for that, we do not have adequate words for thanks.
Sign up for more of this.
Subscribe to our blog for year–round finance strategies and tax tips. We're here to remove the dread from filing taxes.
Thank you! Your submission has been received!
Oops! Something went wrong while submitting the form.
Please complete the reCaptcha.
It's not too good to be true. See what others are saying.