Merry Christmas!
by Bob Williams
You got this—all you have to do is start!
We make filing taxes delightfully simple with one, flat–rate price. Every feature included for everyone.
Start filing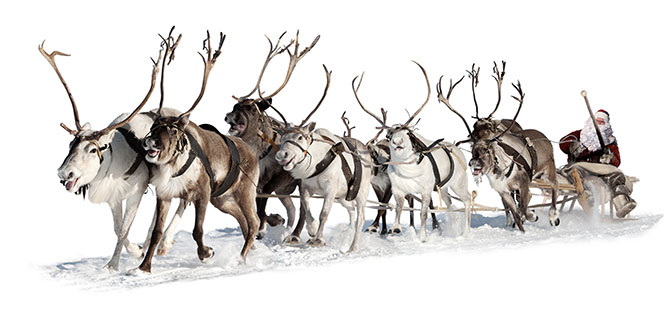 Yep, it's Christmas Day! And because you made the special effort to visit us here at 1040.com, we'll suspend the income tax chatter for a while so you can enjoy your holiday, instead of worrying about income, deductions and extensions. So, what do you say we have a little fun instead?
Like a lot of holidays, Christmas has a lot going on behind the scenes. Since it's celebrated around the world, we've got some interesting facts about Christmas from all over.
It's a Guy Thing
Ever notice how most of Santa's reindeer all have male names? Dasher, Donner, Blitzen, and so forth? The problem is that male reindeer usually shed their antlers around Christmastime, so we wonder if Santa has a herd of girl reindeer doing the honors on Christmas Eve instead.
The tradition of celebrating the birth of Christ on December 25 started way back in A.D. 350, when Pope Julius I proclaimed the day as the official birthday of Jesus Christ. The date had previously been used for the pagan Winter Solstice celebrations, and Julius apparently wanted to put the pagans out of business.
Because they were associated with the pagan celebrations, holly and ivy were banned from Christmas celebrations by the Christian Council of Braga back in the sixth century. Holly had been used to signify the masculine, while ivy stood for the feminine. Apparently that wore off though, since both plants are widely used in Christmas decorations today.
In England, the Puritan Oliver Cromwell was a particular sourpuss when it came to Christmas. Yuletide celebrations and even carols were forbidden during his 11-year tenure as Lord Protector. Sounds like the Lord Protector could've been related to Ebenezer Scrooge.
Go Have Fun!
We know you probably have better things to do than to sit in front of your computer. And while we appreciate the visit, we hope you have a fun-filled holiday. And if you do want to dig a little bit into that Christmas history thing, visit our friends over at RandomHistory.com. They'll fill you in on all the funny, strange and outright weird things about our Christmas tradition.
What's this? For us? Oh, you shouldn't have …
Sign up for more of this.
Subscribe to our blog for year–round finance strategies and tax tips. We're here to remove the dread from filing taxes.
Thank you! Your submission has been received!
Oops! Something went wrong while submitting the form.
Please complete the reCaptcha.
It's not too good to be true. See what others are saying.