The Real Spirit of '76
by Bob Williams
You got this—all you have to do is start!
We make filing taxes delightfully simple with one, flat–rate price. Every feature included for everyone.
Start filing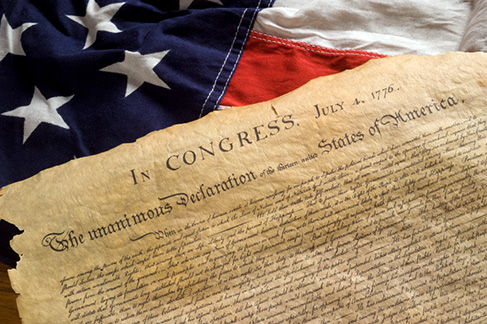 Hello, my friend. Don't be startled. Please don't think "ghost" when you look upon me; perhaps we could say I'm a "Spirit of 1776?" I'm not here to haunt, but to help.
I know you're not accustomed to seeing someone dressed this way, but it was as common during my lifetime as your customs are now. You see, things were different in 1776 – and yet, in some ways, they were the same.
So that explains my tricorn hat and knee breeches. But I'm not here to talk about fashion. We – my friends and I – thought those in your time should know a little more about how this holiday began. That was my time. Can you believe it's been 237 years since then? I must admit I've held my age well – don't you think?
No, you don't know my name. I was, shall we say, merely an observer in those heady days of independence. I was employed by one John Hancock. He was quite the wealthy businessman, you know. Today you might call me an "administrative assistant."
Just about every American alive now knows the names of those great men – Washington, Jefferson, Adams, Franklin, Hancock and the like. But I, too, was there through it all, from the Stamp Act to the Declaration, which brings me back to the reason for this visit.
History, it seems, has a habit of near misses, when events could have easily gone another way. So it was with Independence Day.
Birth of a Nation
The chain of events leading up to what became these United States went something like this: We – that is, the Thirteen Colonies - made our separation from Great Britain official when the Continental Congress approved a resolution by Richard Henry Lee of Virginia. The measure declared the United States to be colonies no more, but an independent nation. The date was July 2, 1776.
History tells you Congress then took up the Declaration of Independence, written by Thomas Jefferson and his committee, which explained why the Congress and the new nation had taken the leap toward independence. After debate and some revision, the Declaration of Independence was approved on July 4.
Here's one of history's near misses. If John Adams had his way, you would be celebrating the Second of July, not the Fourth. John wrote his wife, Abigail on July 3, telling her about what they'd done the day before in Philadelphia:
"The second day of July, 1776, will be the most memorable epoch in the history of America. I am apt to believe that it will be celebrated by succeeding generations as the great anniversary festival. It ought to be commemorated as the day of deliverance, by solemn acts of devotion to God Almighty. It ought to be solemnized with pomp and parade, with shows, games, sports, guns, bells, bonfires, and illuminations, from one end of this continent to the other, from this time forward forever more."
To make matters worse, some historians, I hear, now dispute whether my master, Mr. Hancock, and the rest of the Congress even signed the Declaration on the Fourth of July at all.
Mr. Jefferson, Mr. Adams and Mr. Ben Franklin all wrote later that they indeed signed on the Fourth. They tell me they're standing by that assertion, so I must stand with my friends as I did in 1776.
In truth, it matters not. Whether it was signed on the Fourth, or a month later, in August, 1776, as your historians claim, what does matter is that some very brave men wagered their lives to declare "We Are Free." And so it is.
Continuation of Celebration
In your time, you celebrate the Fourth of July not unlike we did. In 1777, the very first year after the Declaration, Philadelphia celebrated with a 13-gun salute, speeches, prayers, music, and an official dinner for the Continental Congress. Every ship in the harbor was decorated in red, white, and blue!
It took nearly a hundred years for the day to be recognized as a holiday for federal employees, I'm sad to say. In 1870, it was a holiday, but if you didn't work, you weren't paid. That finally changed in 1938, when Independence Day formally became a paid federal holiday.
One more note, my friend, before I go. (Mr. Hancock is whispering in my ear that time is getting short for my visit.) You should know that when it came time to leave this earth, my good friends Thomas Jefferson and John Adams, the only signers of the Declaration of Independence who became presidents, both died on the same day – July 4, 1826. It was the 50th anniversary of this grand day. James Monroe, another one of the Founding Fathers, also died on the Fourth, in 1831.
In short, understand that this day is sacred in our national history. It is well that you mark it with song, with frolic, with fireworks and with friends. But never, ever forget those men and women who stand behind me now – patriots named and unnamed. You stand on the shoulders of giants, my friend, so you may reach higher still.
Celebrate – and remember us all.
Sign up for more of this.
Subscribe to our blog for year–round finance strategies and tax tips. We're here to remove the dread from filing taxes.
Thank you! Your submission has been received!
Oops! Something went wrong while submitting the form.
Please complete the reCaptcha.
It's not too good to be true. See what others are saying.