Long May It Wave
by Bob Williams
You got this—all you have to do is start!
We make filing taxes delightfully simple with one, flat–rate price. Every feature included for everyone.
Start filing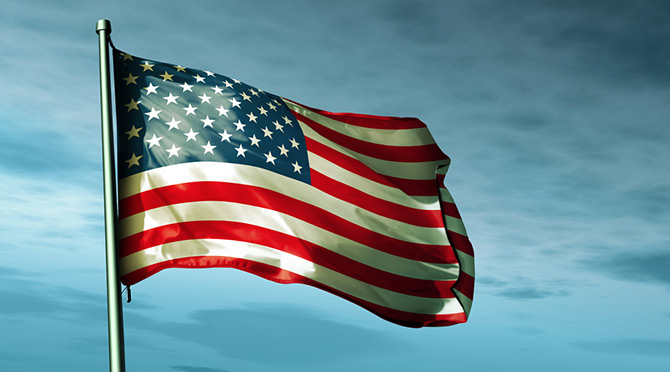 Happy Flag Day!
OK, by that vacant look on your faces we can tell you haven't heard of Flag Day. That's not all that surprising in a way. It's one of the most popular holidays – that isn't a holiday.
Allow us to explain.
Flag Day commemorates the day – June 14 – when the Second Continental Congress adopted the flag of the United States in 1777. President Woodrow Wilson signed a proclamation in 1916 declaring June 14 as Flag Day in the United States. Congress got around to establishing National Flag Day in 1949.
But that's where it stopped. Flag Day was never designated an official federal holiday. Its official observance is at the discretion of the President.
Pennsylvania Stands Alone
Without federal holiday status, Flag Day gets different attention, depending on the state. Pennsylvania, for example, is the only state that designates Flag Day as a state holiday. Next door, in New York, Flag Day isn't a holiday since it's designated on the second Sunday of June.
Out west, Fairfield, Washington, has claim to what may be the oldest continuing parade celebrating Flag Day in the U.S. They started their annual event around 1910, and have held an annual Flag Day parade every year since.
Flag Day is also popular – not surprisingly – in New England. Quincy, Mass., Troy, N.Y., and Hudson, N.Y., all have big celebrations and notable parades. The Troy parade draws some 50,000 people every year.  
Faithful Flag Fanatics
The idea of Flag Day is generally credited to George Morris, who talked about creating a day to honor the flag as early as 1861. But the big push for the flag came from Bernard Cigrand of Wisconsin, and later, Illinois. Cigrand was a teacher and made sure his young students knew about the history of our flag. He once said he'd given more than 2,000 speeches on patriotism and the flag.
Other early Flag Day proponents included William Kerr, who championed the Flag Day idea in Pennsylvania in the late 1800s; Elizabeth Gillespie, a descendant of Benjamin Franklin who pushed for a law requiring the U.S. flag to be flown outside public buildings in Philadelphia; and the Benevolent and Protective Order of Elks.
President Teddy Roosevelt also belongs in there somewhere. There's not much written documentation on it, but the story is told that Roosevelt was dining at a restaurant outside Philadelphia in 1908.  He noticed a man wiping his nose with what Roosevelt took to be an American flag. Teddy was outraged. He grabbed a wooden rod and started whacking the nasal ne'er-do-well for "defacing the symbol of America."
After a half-dozen whacks, Teddy noticed that the man wasn't actually wiping his nose with a flag; he merely had a blue hankie with white stars on it. Roosevelt quickly apologized – but gave the man yet another rap with the stick for making him "riled up with national pride."
Run It Up the Flagpole
We know not everyone will agree, but we think Flag Day doesn't get the respect it deserves. Maybe it's time for that federal holiday status. If we gave Flag Day the press that we give Groundhog Day, for example, maybe our young people could recite the Pledge of Allegiance by heart and would know how to care for an American flag (there's more to it than you think).
We can see it now: "Flag Day – the Movie!"
And that might make even Teddy Roosevelt stand up, put down his stick, and applaud.
Sign up for more of this.
Subscribe to our blog for year–round finance strategies and tax tips. We're here to remove the dread from filing taxes.
Thank you! Your submission has been received!
Oops! Something went wrong while submitting the form.
Please complete the reCaptcha.
It's not too good to be true. See what others are saying.