Your Friendly Wake-Up Call
by Bob Williams
You got this—all you have to do is start!
We make filing taxes delightfully simple with one, flat–rate price. Every feature included for everyone.
Start filing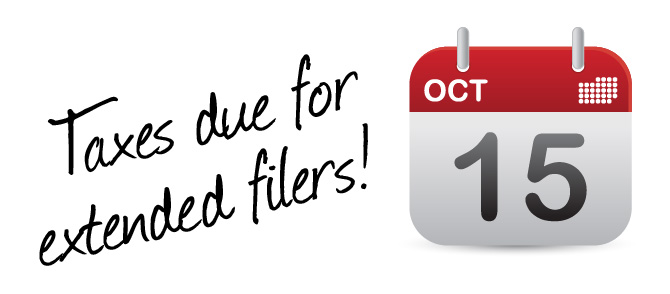 Personally, we hate being late for an appointment. We know what it's like to suddenly wake up to the fact we've nearly waltzed past a very important date on all those calendars. And we don't want that to happen to you.
Did you happen to file an extension back in April for your personal income taxes? Yes? Great!
Now, have you checked your calendar for any reminders, oh, around the 15th of October? That red box on Oct. 15 means it's an important day. It's your last day to e-file your 2014 income tax return.
Filing now isn't much different than filing in April, with some key exceptions. First, there are no extensions this time around. Second, there are no extensions this time around. You see where we're going with this, right?
Basically, unless you're in the U.S. military serving in a combat zone, your return has to be e-filed by Oct. 15, or there may be penalties involved.
Getting It Done
Whatever your reason for requesting an extension of time to file – missing documents, additional deductions coming available, or you just didn't have the time – hopefully all that's been resolved and you're ready to file your taxes.
The drill in October is the same as in April: get your financial documents together you'll need for e-filing; chase down any documents or other financial information that seem to be missing; look over deductions to see if there are any that fit your situation; and then just do it.
Of course, we're ready to give you a hand if you get stuck on a form or if you have a problem during the e-file process. We're as close as your email. Simply click "Help" at the top right of the 1040.com screen and type your question into the text box. If you don't see the answer you need, click the link in the pop-up box to shoot us an email. It's that easy.
So, are we ready to get to work?
Sign up for more of this.
Subscribe to our blog for year–round finance strategies and tax tips. We're here to remove the dread from filing taxes.
Thank you! Your submission has been received!
Oops! Something went wrong while submitting the form.
Please complete the reCaptcha.
It's not too good to be true. See what others are saying.