Secrets of "What If?"
by Bob Williams
You got this—all you have to do is start!
We make filing taxes delightfully simple with one, flat–rate price. Every feature included for everyone.
Start filing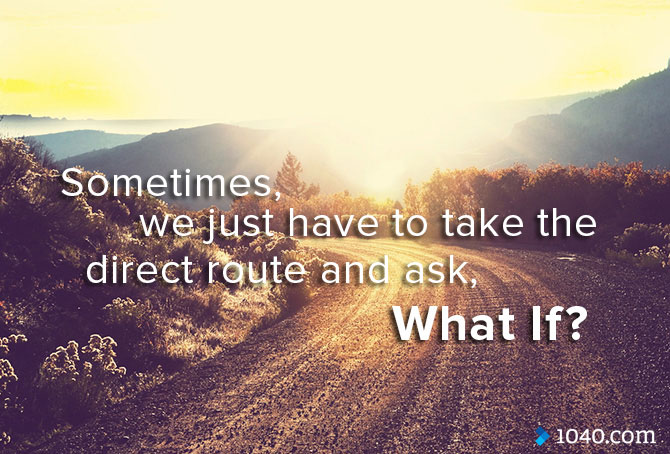 We all try to be prepared for the hurdles, rivers and roadblocks that life throws in our path from time to time. But sometimes, those solutions may not be so easy to come by; many times, it's not the kind of information that's passed down from father to son or from mother to daughter.
Sometimes, we just have to take the direct route and ask, What If?
Granted, none of us can see around corners. But in the spirit of being prepared, we've tried to assemble some of those questions – with answers of course – that may have crossed your mind recently. And hopefully, you'll never need the answers.
It's About You
What if my income declines?
There are a lot of tax credits that have income limits. If your income was down this year, you could be eligible for additional credits or deductions on your tax return. For example, if you previously made too much, the Earned Income Tax Credit (EITC or EIC) may not have been a factor in your income tax picture. With reduced income, though, that credit could be worth thousands, depending on your filing status and number of dependents. Check out www.irs.gov/eitc to see if you qualify.
What if my 401(k) drops in value?
Generally, you can't claim a capital loss on retirement accounts that are already getting favorable tax treatment. Since your contributions to the 401(k) were tax-free, that disqualifies the account from claiming losses. The only time you'd have a loss is when you receive a distribution that was taxed previously. More questions? See IRS Publication 575, Pension and Annuity Income.
What if I can't pay my taxes?
First, don't panic! Remember, though, even if you can't pay the full amount of taxes you owe, you should still file your return by the April deadline. Pay as much as you can when you file, in order to avoid penalties and interest. Then, call the IRS at 800-829-1040 to talk about payment options for the balance. The IRS can suggest some options for you, including a short-term extension to pay, an installment payment plan or an offer in compromise, which would allow you to settle up for less than the stated amount. Just remember that while the IRS can waive penalties in some cases, they cannot waive interest that accrue on unpaid tax bills.
What if I close my business?
If your business is no longer operating, you still are responsible for filing required tax returns for your business by the due dates. This includes the required employment tax returns if you had employees. Both business and employment taxes should be paid when due. But if you can't pay them in full, contact the IRS at 800-829-1040 to find out your options.
What if my employer goes out of business or is bankrupt?
Your employer has to provide a W-2 to you showing your wages and withholding for the year by January 31 of the following year. So, if you were working during 2013 and your employer went out of business, you should have gotten the W-2 for the 2013 tax year by the end of January 2014.
Until you get your ending W-2, keep all your pay stubs or other pay records as a backup. If you do not get the W-2, contact the IRS and they can see about providing a substitute W-2 to you.
If your employer liquidates your 401(k) plan, you'll have 60 days to roll it over to another qualified retirement plan or an IRA. For more on this topic, check out IRS Publication 4128, Tax Impact of Job Loss.
What if a tax levy on my wages is causing a hardship?
Contact the IRS (the number should be printed on the levy or other paperwork) immediately, and explain your financial situation. If the levy is creating an immediate financial hardship, it may be released. Keep in mind that a levy release does not mean you are absolved from paying the balance due. The IRS will then work with you to set up a payment plan or other steps to help you pay off the balance. TIP: have the fax number handy for the bank or employer office that's processing the levy when you call.
It's About Your Home
What if I lose my home through foreclosure?
Under the Mortgage Forgiveness Debt Relief Act of 2007, taxpayers can generally exclude income from the discharge of debt on their principal residence; second homes or vacation homes do not qualify, however.
What if I sell my home for a loss?
Losses from the sale of personal property – such as your home or your car – are not deductible. This type of loss won't qualify for the capital loss provision (which can be worth up to $3,000 for qualifying taxpayers).
What if there's a federal tax lien on my home?
Until the lien is satisfied (paid), you won't be able to sell or refinance your home. There are a number of options that may satisfy a lien. Normally, if you have equity in your property, the tax lien is paid (wholly or in part, depending on the equity) out of the sales proceeds at the time of closing. If the home is sold for less than the lien amount, you can request the IRS discharge the lien in order to complete the sale. You can also ask that the federal tax lien be made secondary to the lending institution's lien so that the property can be refinanced or so that the mortgage can be restructured.
In light of the downturn in the economy generally, the IRS says it has significantly increased the threshold at which a lien is filed.

Certainly, we know there are other questions out there. But we hope we've hit some of the high spots for you, and that now you might feel a little better prepared for that adventure called Life.
Sign up for more of this.
Subscribe to our blog for year–round finance strategies and tax tips. We're here to remove the dread from filing taxes.
Thank you! Your submission has been received!
Oops! Something went wrong while submitting the form.
Please complete the reCaptcha.
It's not too good to be true. See what others are saying.